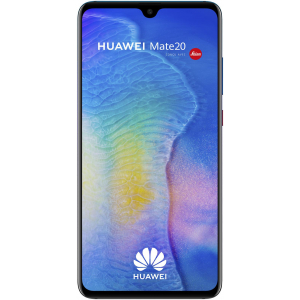 Operating system

Android 9.0

Processor frequency

2.6 GHz
Add my opinion

I have it (0)

I had it (0)

I want it (0)
Our opinion
With its Mate range, Huawei has a rather mid-range, even high-end focus with the Pro model. This Mate 20 therefore has a price positioning but also a rather high level of functionality, with good qualities to promote.

The design of this smartphone is quite spectacular with its extremely reduced edges, and it gives a beautiful impression in the hand, despite a significant weight. It fits well in the hand, remains ergonomic, displays a rather chic glass back but a little too prone to fingerprints, but surprisingly is not completely waterproof. The two SIM card ports are complemented by an NM card port, a proprietary format unfortunately signed by Huawei to extend storage.

The huge screen - more than 6.5 inches diagonal, or more than 16 cm - is strangely equipped with an IPS technology panel. A choice that is not in itself disappointing, but the contrast is hardly worth it, far from the best smartphones of the competition, and responsiveness is also lagging behind. However, a few small adjustments allow a very accurate rendering of the colours and temperatures, and the brightness is sufficient to keep the Mate 20 readable in most situations. As for visual comfort, the resolution of 2240 by 1080 pixels is sufficient even for the most fussy.

The sound of this smartphone goes through a headphone jack in particular, and this one is quite satisfactory and it only lacks a little power. For the rest, the stereo is a little disappointing because there is an inequality in the power of the two speakers.

The power of this Huawei Mate 20 is more than enough to ensure constant fluidity, regardless of the number of applications opened simultaneously. The heating of the device is also the lightest thing.

Despite three photo sensors, with complementary focal lengths, the result is not quite up to par with what can be expected. There is indeed a treatment of the photos that is a little too marked not to affect the photo, with some details that suffer and a rendering that is not totally natural, even in good conditions. The same is true when the darkness is marked, with a smoothing that takes everything in its path. If that is not a big problem, there is a small disappointment. This smoothing is also found in selfies.

If the battery of this Huawei Mate 20 is certainly generous, there has been a huge optimization work to bring the smartphone up to three days of use or not far away, which makes it one of the very best, even the best device in this field.
Review of the Huawei Mate 20 done by Julien Hany the 2018/12/29
A question or a problem on the Huawei Mate 20? Create a discussion and our team will answer you!
Key points
Photo resolution (Front camera)
24 MP
Processor frequency
2.6 GHz