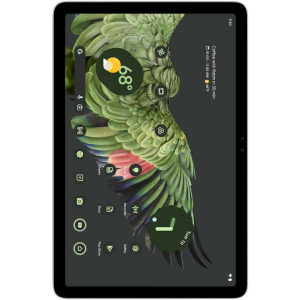 Operating system

Android 13

Processor frequency

2.85 GHz
Add my opinion

I have it (0)

I had it (0)

I want it (0)
Our opinion
Google has made a name for itself with its Pixel range of smartphones, which offer excellent value for money and excellent photo capabilities. Now the American giant is launching its first tablet, the Pixel Tablet, which aims to achieve the same feat.

The design will come as little surprise to those accustomed to the Google Nest, with shapes that aren't very striking but are effective and without surprises. To its credit, the Pixel Tablet doesn't weigh too much and doesn't pick up fingerprints. However, the device does have a certain thickness and the positioning of the physical keys is disconcerting, as they have obviously been designed and optimized for use on the base. The Pixel Tablet is style-compatible and can act as a Chromecast. Supplied with a dock, the tablet can quickly be transformed into a Google Nest and thus an ally for home automation, gaining in the process quality sound and fast recharging.

This tablet's screen is somewhat disappointing. Its 16/10th format is not to blame, nor its very adequate resolution of 2560 by 1600 pixels, but the absence of Oled technology is surprising, as is its refresh rate, which caps out at 60 Hz. Contrast is good, but brightness is a little lower, given the panel's technology. Outdoor reflections will be noticeable. On a final note, colors are well rendered, with a little tweaking of the settings.

While the processor built into this Pixel Tablet is a monster of power, the tablet feels a little limited, but this is mainly felt in gaming, which is limited in its display, without this being too annoying.

Photography is not an area in which we particularly expect a tablet to excel, but Google has decided to take care of this part of the business, and offers its tablet some fine capabilities, delivering well-crafted shots in all conditions, with a marked choice of realistic exposure and natural rendering. The front-facing sensor is more suited to videoconferencing, and performs well overall. Video capture, like photography, is meticulous for a device of this type.

The battery life of this Pixel Tablet is well within the norm, lasting over a day without showing any major signs of weakness. On the other hand, the supplied dock is essential if you don't want to waste too much time recharging it via a simple USB cable.
Review of the Google Pixel Tablet done by Julien Hany the 2023/12/03
A question or a problem on the Google Pixel Tablet? Create a discussion and our team will answer you!
Key points
Video resolution (Camera)
1080 p
Photo resolution (Camera)
8 MP
Internal storage (Version 256GB 8GB RAM)
256 GB
Processor frequency
2.85 GHz
Photo resolution (Front camera)
8 MP