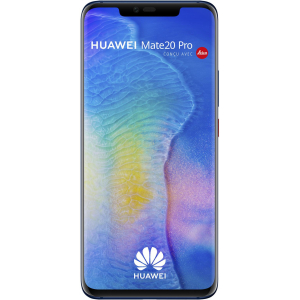 Operating system

Android 9.0

Processor frequency

2.6 GHz
Add my opinion

I have it (0)

I had it (0)

I want it (0)
Our opinion
Now very firmly established as a manufacturer, Huawei continues its expansion and offers with Mate 20 Pro a device of very beautiful workmanship, which aims without blinking at the very high end, still embodied for the public by Samsung or Apple.

As soon as you get started, you feel that you are dealing with an almost luxury product, with impeccable finishes and lines that evoke iconic devices like Samsung's Galaxy Note 9 or the latest iPhone. The gigantic screen is just adorned with a notch, the whole is thin, not too heavy, and even the rear facade has charm with very successful variations in green and night blue colors, rare originality in a very classic set. Too bad that in this almost total success, it is necessary to use a Huawei format to extend the memory, instead of a simple micro-SD. On the other hand, there are the latest refinements, such as facial recognition and even a fingerprint reader in the screen itself.

The 6.39 inch slab is huge, with OLED technology but above all of excellent level. There has been a real work to keep it as faithful as possible, even if for a perfect balance a small turn in the settings is necessary for that. The brightness allows to maintain a high level of comfort in all circumstances, and the reflections are almost imperceptible. As the definition is also very high, with 3120 pixels by 1440, Huawei signs a flawless display.

Connecting a wired headset will require the use of the adapter, which is supplied and has a very good quality rendering, with a beautiful spatial distribution in particular. The loudspeaker, hidden in the USB-c port, is finally satisfactory for use.

Powerful, the Huawei Mate 20 Pro is certainly powerful, and this is true in use. All applications run at 100% of their capacity, without noticeably heating the smartphone. Players will be thrilled with fluidity at all times, even in the highest levels of detail.

With its three sensors, including a zoom and a wide angle, the Mate 20 Pro impresses at first glance. There is not much to say about zoom and wide-angle sensors, which are necessarily much more comfortable for shots in bright light than in darkness. The main sensor gives excellent results in broad daylight, with however a tendency to exaggerate the contours, even if the whole remains very detailed, homogeneous and therefore flattering. This defect is found in the darkness, with a rendering that loses its naturalness in favour of rather forced features. Rich in options of use, the photo part would have deserved a more harmonious software processing to achieve excellence.

Huawei has achieved a very nice feat by putting a generous battery in his smartphone. This one is very durable, almost at the level of the very best, with a very fast charging (but if the phone gets very hot then) and even the possibility to use it as... battery for other devices.
Review of the Huawei Mate 20 Pro done by Julien Hany the 2018/12/23
A question or a problem on the Huawei Mate 20 Pro? Create a discussion and our team will answer you!
Key points
Processor frequency
2.6 GHz
Photo resolution (Front camera)
24 MP