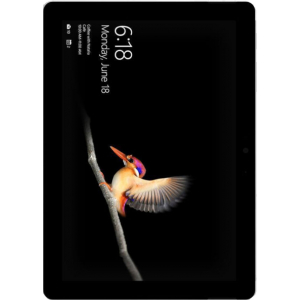 Operating system

Windows 10

Processor frequency

1.6 GHz
Add my opinion

I have it (0)

I had it (0)

I want it (0)
Our opinion
If Microsoft seems to be changing its mind with this cheaper version of its Surface, it is nevertheless an interesting device in more ways than one.

Microsoft has not skimped on the quality of finish of this Surface Go: it gives all the guarantees of seriousness and beautiful assembly, with a beautifully crafted aluminium and a beautiful material for the coating, a very attractive brushed aluminium. It's a pity, however, that Microsoft has once again chosen to sell everything as an option, both the keyboard and the stylus, significantly increasing the price at all. However, the said keyboard is well made, with a pleasant typing even if the large hands will be a little cramped, due to the format of the whole. Microsoft has also decided to use only USB-c on this Surface Go, requiring an adapter for a good old USB key: on the other hand, the recharging goes through a proprietary charger. Fortunately, a micro-SD port allows you to increase storage capacity. Very good point, this hybrid device heats only very little, and this remains imperceptible because it is located in the screen area, so far from the keyboard, and the cooling does not make any noise. Very lightweight, the Surface Go fits easily into a bag, and even with a keyboard and charger, you stay below the kilo.

The 10-inch screen is still in this strange 3:2 format, with a beautiful resolution of 1800 by 1200 pixels that prevents any eye strain. If one can blame the slightly imposing screen edges, the rest of its characteristics are irreproachable. The contrast is very beautifully crafted, the colours are reproduced with great fidelity, and the brightness is quite correct for all environments.

The sound obviously lacks power, but the stereo is quite well rendered.

In terms of power, this Surface Go is still very modest, but the model with a 128 GB SSD and 8 GB RAM is just enough for office or web use in good conditions. Unfortunately, this modesty does not really serve this Surface in terms of autonomy, which only enjoys a little less than six hours before being exhausted.
Review of the Microsoft Surface Go done by Julien Hany the 2018/12/08
A question or a problem on the Microsoft Surface Go? Create a discussion and our team will answer you!
Key points
Photo resolution (Front camera)
5 MP
Photo resolution (Camera)
8 MP
Video resolution (Camera)
1920 p