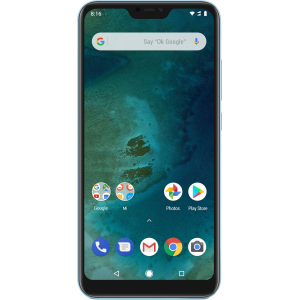 Operating system

Android 8.1

Processor frequency

2 GHz
Add my opinion

I have it (0)

I had it (0)

I want it (0)
Our opinion
Xiaomi had succeeded with the Mi A1 an interesting smartphone, both economical and sustainable by using Android One, which therefore follows Google's recommendations and support. The Mi A2 released, here is an even more economical version with the Mi A2 Lite.

This one offers a rather compact design, not necessarily very refined (the smartphone is massive and thick enough), but it fits well in the hand and will satisfy people with small hands or just tired of large devices. Made of metal and plastic, the Mi A2 Lite is quite classic, with two Sim card ports and one micro-SD, but we can regret the use of the micro-USB port, rather obsolete in 2018. You have to deal with a notch on the screen, which will not please everyone

With a diagonal of 5.84 inches, the Mi A2 Lite has a beautiful, well-defined slab (2280 by 1080 pixels), but it can be improved on many levels. The color temperature is quite cold, and the overall contrast is just right. But the most disturbing thing in use is that, despite its very good scores, the brightness is parasitized by the sensor, which automatically manages it and is far too reactive, overshadowing the screen in a flash.

The sound provided by this Xiaomi is quite standard, including the rather pleasant speaker. The presence of a port jack is still appreciated.

The use of Android One guarantees a quality user experience that is always up to date with Google standards. Fluidity is a must in most everyday uses and only a few customization options are missing to be fully convinced, but sobriety pays off. On the other hand, the Mi A2 Lite is a bit struggling on the most recent games.

In photography, the double photo sensor does well, even if it is not completely amazing. The level of detail is correct, and care must be taken with exposure: for the rest, the shots remain satisfactory, but the focus is a little long. In the dark, the Mi A2 Lite inevitably suffers and the clichés are no longer as flattering. In selfie mode, the 5 million pixel sensor does not do so badly.

The autonomy benefits from a very generous and long-lasting battery, which reaches without too much trouble on both days, or even a little more, even when the Mi A2 Lite is heavily used.
Review of the Xiaomi Mi A2 Lite done by Julien Hany the 2018/12/23
A question or a problem on the Xiaomi Mi A2 Lite? Create a discussion and our team will answer you!
Key points
Internal storage (Version 32GB / 3GB RAM, Dual SIM)
32 GB
RAM (Version 32GB / 3GB RAM, Dual SIM)
3072 MB