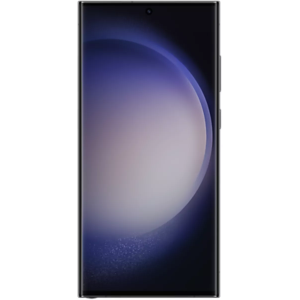 Operating system

Android 13

Processor frequency

3.36 GHz
Add my opinion

I have it (0)

I had it (0)

I want it (0)
Our opinion
Every year, Samsung upgrades its top-of-the-range model to a version with maximum power, designed for the most demanding applications and latest-generation games. The Galaxy S23 Ultra is here to impress!

Samsung has gone for sobriety in the design of this smartphone, which loses all roundness in its shapes, but this paradoxically helps its grip, as the Galaxy S23 Ultra weighs in at a heavy and particularly generous size. There's no photo island on the rear panel, but a very smooth integration, and the stylus is also located in the lower part of the device. In addition to the obviously comprehensive connectivity, the IP68 standard and the waterproofing that goes with it are well and truly in place.

The S23 Ultra's panel is obviously very generous in size, and above all remains faithful to the quality criteria long established by Samsung for its top-of-the-range smartphones. Very richly defined (3088 by 1440 pixels - that's what you need on a 6.8-inch diagonal), with a refresh rate that climbs to 120 hz, this slab has a very nice disposition. As always, the Korean manufacturer has taken great care in calibrating its screen, and there's nothing to complain about when it comes to color rendering, which is faithful and well tempered by opting for the natural mode in the display settings. Finally, brightness is always adequate, whatever the environment, and reflections are not a problem for this S23 Ultra.

The power of the Galaxy S23 Ultra is indeed impressive, enabling the smartphone to absorb all kinds of use without flinching, without ever showing any sign of slowing down. Even long gaming sessions hardly disturb this device, which is versatile and always responsive, and also has the added bonus of not overheating when it's hard at work.

The 200-megapixel sensor is a clear indication of Samsung's ambitions for this top-of-the-range model, even if it's possible not to go that high and settle for less, as the 200 megapixels are achieved by combining pixels. In any case, there's nothing to say when the brightness is good, with shots that are rich in detail and subtle, even if the colors provided by the Korean manufacturer's processing are still aggressive. At night, however, this very high resolution loses its appeal. The best compromise seems to be to opt for the 50 megapixel mode, which is the most balanced in terms of rendering (and file weight). The ultra-wide-angle module is a minor disappointment, with sharpness that could have been more pronounced and smoothing that was better controlled. At night, details are quite degraded, an odd choice given that it lags behind the S22 Ultra with the same optics. The front-facing sensor has far fewer pixels than Samsung's previous iteration, but the 12 megapixels are enough to produce quality selfies, both in terms of detail and exposure. The portrait mode, on the other hand, has nothing to complain about, providing almost perfect cropping of faces. Last but not least, video capture is a deluge of features, with the possibility of up to 8K resolution, as well as beautifully crafted slow motion.

For this top-of-the-range smartphone, Samsung has thought big about the battery, which offers excellent autonomy so that the S23 Ultra can be used for long periods without having to think about recharging. It comes with a fast charger, but you'll need to have one already, as it's not included.
Review of the Samsung Galaxy S23 Ultra done by Julien Hany the 2023/07/19
A question or a problem on the Samsung Galaxy S23 Ultra? Create a discussion and our team will answer you!
Key points
Photo resolution (Front camera)
12 MP
Processor frequency
3.36 GHz
RAM (Version 1TB 12GB RAM, Dual SIm)
12288 MB
Internal storage (Version 1TB 12GB RAM, Dual SIm)
1000 GB