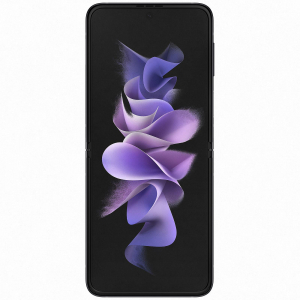 Operating system

Android 11

Processor frequency

2.84 GHz
Add my opinion

I have it (0)

I had it (0)

I want it (0)
Our opinion
Samsung intends to transform the trial of its folding smartphone into a square one. After an interesting first version, the Galaxy Z Flip 3 intends to seduce even more users who will find interest in this more compact device, but without concessions on other levels.

While the Korean brand hasn't radically changed the look of its folding smartphone, all the finishes have improved, giving the Z Flip 3 an even more premium look, with highly resistant glass all over, and the hinge is both reinforced and easier to open, giving the smartphone remarkable ergonomics. Even if it is long and the bend is felt under the finger, Samsung has taken care to limit the discomfort, and the small external screen sometimes dispenses with the need to open the device at all costs. If it is necessary, logically, to remain vigilant when the device is "closed" because the sand can infiltrate, the addition of a certification of waterproofness is a good thing.

Samsung remains faithful to its tradition of making excellent screens, and this 6.7-inch diagonal display does not fail to seduce once again. After a little adjustment, we have indeed an impeccable color rendering and very close to reality, a very pleasant definition of 2460 by 1080 pixels for a very pleasant display fineness, which goes hand in hand with a refresh rate of 120Hz. The brightness means you don't have to worry about the surrounding light.

As it is unfortunately classic, there is no way to plug in an old headset, as there is no mini-Jack port, or even an adapter. On the other hand, the two onboard speakers produce a decent sound, with obviously a downside when the Z Flip 3 is closed, which naturally muffles the sound.

This smartphone, for folding as it is, has a response in terms of power and absorbs all the tasks entrusted to it with brio: it does not slow down and the user never has to face any concerns about fluidity or otherwise. The games do not resist more and run without any difficulty.

For the photo, Samsung has equipped its Z Flip 3 with two sensors of twelve million pixels each. The first one is dedicated to classic photos, and it does quite well even if the Korean brand has already done better. The details are well marked but there is a little too much smoothing for it to be completely satisfactory. This same smoothing is a little too present when the photos are taken in a dark environment and it harms their quality, even if it remains very acceptable. For the second sensor, it is the ultra-wide angle that is proposed, with always good renderings in good light conditions, and an unfortunately strong degradation in the dark. However, this trend is observed on all smartphones in general. The portrait mode is effective on most photos with a successful clipping, even if it happens to be wrong. The video capture is very good with a welcome stabilization. For selfies, there is a dedicated sensor, but it is not as good as the two main sensors, closed hood!

Its predecessor was already lagging behind in terms of autonomy, and this Z Flip 3 does not escape this concern: indeed, you have to be particularly thrifty not to have to recharge your smartphone before the end of the day, except for checking the notifications only on the small external screen.
Review of the Samsung Galaxy Z Flip3 done by Julien Hany the 2021/11/02
A question or a problem on the Samsung Galaxy Z Flip3? Create a discussion and our team will answer you!
Key points
Photo resolution (Front camera)
10 MP
Processor frequency
2.84 GHz
Internal storage (Version 256GB 8GB RAM, Dual Sim)
256 GB