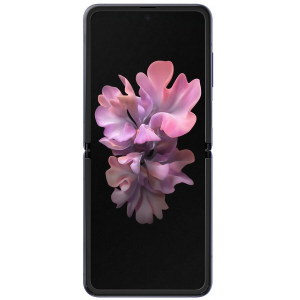 Operating system

Android 10.0

Processor frequency

2.95 GHz
Add my opinion

I have it (0)

I had it (0)

I want it (0)
Our opinion
After a successful trial in folding smartphones with the Galaxy Fold, Samsung is doing it again with the Z Flip, which is positioned in a very high-end sector due to its price and promises great performance.

We have in front of us a square smartphone that unfolds and stretches vertically, for a classic design. The finishes are beautifully crafted and reassure as to the premium positioning of the device, which is also conveyed by its price. Unfolded, it's very long, with an elegant slab and fairly thin edges and just a punch for the photo sensor on the front, but it's still difficult to use this device with one hand. Everything is designed by Samsung to ensure that the hinge doesn't let too much dust through, and this hinge allows the Z Flip to be left half open when needed. While this is very useful, it is still not used enough by applications. When folded, the smartphone is quite elegant, but still thick enough to protect the screen. A micro display allows you to see its notifications when the Z Flip is closed, but that doesn't go much further than to take a quick selfie. As for the connectors, there's a mini-Jack port for a micro-SD or even a second SIM card, and the fingerprint reader is on the right side, which will suit right-handed people, not necessarily left-handed.

The solidity of the screen does not pose too many worries, even if the classic models are necessarily more reassuring, and the fold is not too noticeable and it does not hinder the use. Very long, which is a concern in some applications, the Z Flip's screen is nonetheless pleasant. It's not too prone to glare, thanks to good brightness, it's sharp enough for unobtrusive reading, and the color rendering is almost optimal.

As for the audio, the lack of even a USB-c adapter for a conventional headset is bitterly regrettable, which is quite petty at this price level. The only onboard speaker on the smartphone does well, even if it shows limits for the most demanding uses.

In terms of performance, while the onboard components are a bit old-fashioned, their performance for everyday use is excellent. There's no concern about fluidity or in the sequence from one application to another. As for gaming, the Z Flip is simply a great terminal for gaming in the best conditions.

As for photography, Samsung hasn't gone overboard with only two photo sensors. The 12-megapixel sensor dedicated to the majority of photos is correct for most uses, despite a real propensity to force contrasts in particular, which makes it lose a bit of its naturalness. Of course, darkness is a big problem for this sensor, and the Galaxy Z Flip only provides smooth shots and details that are not very precise. There is also a problem with the quality of the wide-angle module, medium detail and a regrettable overexposure. These shortcomings only worsen in a dark environment. You can't count on 4K video capture, but in high definition, the smartphone does quite well. For selfies photos, here again, good light is the condition for their success.

Battery life is clearly not the strong point of this Galaxy Z Flip, due to a capacity that's too limited to accompany the user for a long time. You have to be satisfied with a day or so, without being too demanding, and as the recharge is not very fast, you are not satisfied with this aspect.
Review of the Samsung Galaxy Z Flip done by Julien Hany the 2020/04/15
A question or a problem on the Samsung Galaxy Z Flip? Create a discussion and our team will answer you!
Key points
Processor frequency
2.95 GHz
Photo resolution (Front camera)
10 MP