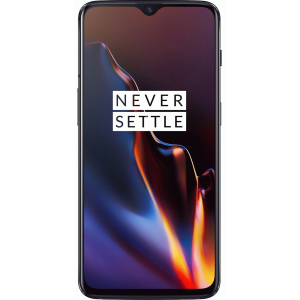 Operating system

Android 9.0

Processor frequency

2.8 GHz
Add my opinion

I have it (0)

I had it (0)

I want it (0)
Our opinion
OnePlus has long been the leader of the competition behind Samsung and Apple, but the emergence of Xiaomi or Huawei has overshadowed it. This OnePlus 6T has some great advantages to offer to target even the top of the range.

Close in aesthetics to its predecessor the OnePlus 6, this new model does not surprise but is always of a beautiful elegance, with beautiful finishes and a sober efficiency in the lines. A rare and appreciable feature, two finishes are available; glossy and the other matt with the most beautiful effect, which does not take fingerprints. Very impressive, the screen seems to have no edges and hides the fingerprint reader in its bosom, a solution that works well, if not very well, but has a few small failures. There is no waterproof certification, but OnePlus claims that its smartphone is not afraid of immersion. However, it is difficult to check without risk.

The very beautiful screen testifies to the manufacturer's great expertise in providing an impeccable display. , without any perceptible drift while remaining natural. The infinite contrast goes hand in hand with a beautiful luminosity and an ability not to suffer too much from reflections. The resolution is quite sufficient to never tire the eyes, even during long sessions.

For the first time, OnePlus has dropped the microJack port for sound, but provides a USB-c adapter, which is generally well made despite its perfectible spatial distribution. The only loudspeaker is pretty good overall.

Performance is at the forefront with OnePlus 6T, which has the best in processor technology with generous RAM. As a result, fluidity is perfect in all circumstances, and the games run at full speed, all without noticeably heating the device.

The photo benefited from the manufacturer's real efforts, which with two sensors (one 16 million pixels, the other 20) manages to offer very beautifully made photos. Outdoors, the photos are rich in detail, with a contrast and a sharp sharp sharpness, all with a natural look. More surprisingly, the OnePlus 6T does very well in the dark, capturing a little light, with moderate smoothing to maintain detail, and only a little bit of accuracy in the colors to be perfect. The front module has a little more difficulty in a dark environment, but it provides otherwise beautiful self-portraits.

The autonomy is also a great success, with two full days of use before reaching the end of the OnePlus 6T, which with its AC adapter can be charged in no time at all.
Review of the OnePlus 6T done by Julien Hany the 2018/12/02
A question or a problem on the OnePlus 6T? Create a discussion and our team will answer you!
Key points
Processor frequency
2.8 GHz
RAM (Version 128GB / 6GB RAM, Dual SIM)
6144 MB
Internal storage (Version 128GB / 6GB RAM, Dual SIM)
128 GB
Photo resolution (Front camera)
16 MP
Comparison tests
Here is a list of comparison tests available between the OnePlus 6T and others smartphones.

OnePlus 6T

OnePlus 6T

OnePlus 6T

OnePlus 6T