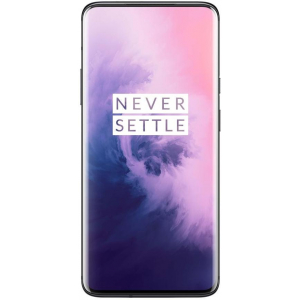 Operating system

Android 9.0

Processor frequency

2.84 GHz
Add my opinion

I have it (0)

I had it (0)

I want it (0)
Our opinion
OnePlus is now a smartphone manufacturer that counts, with the credo of keeping a tight price without neglecting features. The bet with this OnePlus 7 Pro is slightly different, it is to make a very high-end device, with a price accordingly.

The design of this phone is both successful and classic, with sober lines, an almost optimal use of space (thanks in particular to the camera on the retractable front) and an impeccable level of finish. Be careful, not all the coverings offered are equal in front of fingerprints, and the rear facade when it is made of smoked glass is more elegant and longer. Of course, the OnePlus 7 Pro is very large and not very usable with only one hand, but this is not its only problem. It is indeed necessary to do with a fingerprint reader under the screen a little capricious, and facial recognition implies the deployment of the sensor which delays the unlocking. It also lacks wireless charging, a micro-SD port and above all waterproofing (real and proven, not just mentioned as by OnePlus).

The higher refresh rate of this OnePlus 7 Pro is a positive surprise, and the extra fluidity is pleasant. With its 6.67 inch tile, the smartphone impresses, and the quality of what is displayed is remarkable. The colours are rendered with remarkable fidelity in every respect, without any fault. The brightness adapts without major worries to all environments, from the brightest to the darkest without sacrificing anything to comfort. There is also an infinite contrast, a generous definition that allows you to enjoy a very comfortable display even in extended sessions and an ability to limit reflections. In short, there is nothing to complain about on the screen.

It is very unfortunate, however, that the disappearance of the mini-jack port is not compensated by a USB-c adapter, as it is not provided. There are many headphones in the right format but they are not very exciting. However, there is nothing wrong with the speakers, which make a very good impression.

The OnePlus 7 Pro is a real power monster, which makes it very pleasant to use, because it runs at full capacity without heating, and never shows any sign of slowing down. Obviously, for games, the smartphone stands out, and has no difficulty in running the most recent productions in maximum detail without weakening.

With three photo sensors, this OnePlus 7 Pro has a fairly classic configuration on the top of the range: a classic lens, a zoom (3x) and a wide angle. The classic sensor produces good quality images, with a small lack of contrast and slightly bland colours, but which remain pleasant. In bad light conditions, it goes rather well, despite a slightly marked smoothing, because the rendering remains quite natural. The wide-angle sensor is difficult in all circumstances, fishing in color, contrast and high smoothing, and the same is true (with a very pronounced grain) in the dark, which is common on such lenses. The problems are the same for the zoom model, which suffers in terms of colour and contrast, but it benefits from optical stabilisation, which is always appreciable. Very good point, it is not a digital zoom that works when light is lacking, and the rendering benefits from it. The sensor on the front for selfies takes a little too long to get out to take the picture, but it does well despite an often excessive smoothing.

The autonomy of the OnePlus 7 Pro benefits from a more generous battery, which is normal because the phone is rich in power. In fact, the smartphone can last about a day and a half without needing to be recharged, which is a good score but not exceptional either.
Review of the OnePlus 7 Pro done by Julien Hany the 2019/08/26
A question or a problem on the OnePlus 7 Pro? Create a discussion and our team will answer you!
Key points
Photo resolution (Front camera)
16 MP
Internal storage (Version 128GB / 6GB RAM, Dual SIM)
128 GB
RAM (Version 128GB / 6GB RAM, Dual SIM)
6144 MB
Processor frequency
2.84 GHz
Comparison tests
Here is a list of comparison tests available between the OnePlus 7 Pro and others smartphones.

OnePlus 7 Pro

OnePlus 7 Pro

OnePlus 7 Pro