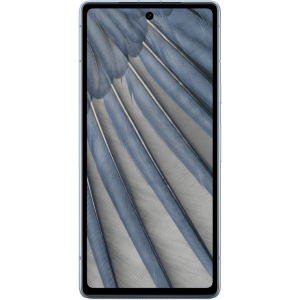 Operating system

Android 13

Processor frequency

2.85 GHz
Add my opinion

I have it (0)

I had it (0)

I want it (0)
Our opinion
The "a" range of Google Pixel smartphones has proved very popular, offering excellent photo performance at an affordable price. So it's only logical that the digital giant should follow up its Pixel 7 with a version that's both affordable and full of promise.

In terms of design, the Pixel 7a takes up the codes of the Pixel 7, quite logically, and successfully combines plastic and metal, with a good grip and successful integration of the photo island, which doesn't unbalance the phone when it's put down, even if its weight isn't totally negligible. While you'll have to watch out for fingerprints on the smartphone, it's nice to have it available in a range of attractive colors. Connections are all there, and although the Pixel 7a is not waterproof, its iP67 certification protects it from brief immersion, which is something.

There's no 120Hz screen refresh yet, but the switch to 90Hz is already pleasant and brings added fluidity. The definition of the Google Pixel 7a's screen, 2400 by 1080 pixels, is very fine, and the colors displayed, after a short pass through the settings, are faithful and pleasing to the eye. Finally, there's no need to worry about environments that are too dark or, conversely, too bright, as the Pixel 7a adapts to both.

The Pixel 7a features a new photo sensor, with no less than 64 million pixels for the main sensor. True to the quality Google always offers, shots in daylight conditions are impeccable, with a luxury of detail, beautiful colors and well-managed exposure. When the light fades, this smartphone has little or nothing to worry about, especially if night mode is used, which is very effective. As for the ultra-wide-angle module, it's impressive, with almost no loss of quality, which is very rare, even if it does deteriorate a little when light conditions worsen. There's nothing to complain about in portrait mode either, which manages to capture faces with little or no fuss. The front-facing sensor is also a great success, offering flawless selfies. Video capture is aided by effective stabilization and a fluid 4K mode.

While the Pixel 7a has no difficulty whatsoever in handling classic applications with good fluidity, it does struggle a little when it comes to games. Nothing too serious, as it never falls below a certain threshold, but you can almost feel that it's still got it under its belt.

Once again, the battery is a weak point in Google's "a" range, and this Pixel 7a doesn't show great signs of endurance. You'll have to keep this in mind, or have a charger nearby to avoid finding yourself too deprived.
Review of the Google Pixel 7a done by Julien Hany the 2023/07/15
A question or a problem on the Google Pixel 7a? Create a discussion and our team will answer you!
Key points
Processor frequency
2.85 GHz
Photo resolution (Front camera)
13 MP