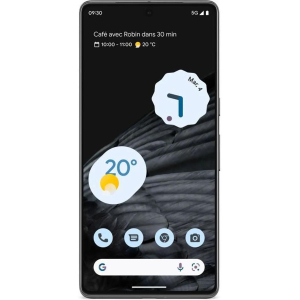 Operating system

Android 13

Processor frequency

2.85 GHz
Add my opinion

I have it (0)

I had it (0)

I want it (0)
Our opinion
In the space of just a few years, the Pixel range has established itself as a must-have in the competitive smartphone market, and the Google Pixel 7 once again aims to stay true to the equation between price and performance.

In terms of design, the Pixel 7 follows the trend initiated by its predecessor, but goes even further for rounded, softer shapes. The overall look is more elegant, but fingerprints quickly become embedded on the rear panel. While the smartphone remains large, its weight has been slightly reduced, and it's still pleasant to hold, thanks in particular to a beautifully optimized front panel and keys that fall naturally to the fingertips. Connectivity is extremely comprehensive, with the latest standards integrated, and another good point is the IP68 certification, guaranteeing real waterproofing. Another pleasant surprise is the quality of the two speakers, which in many cases make the use of a loudspeaker superfluous.

The Pixel 7's screen is generous, with a diagonal of 6.3 inches, without being too much either. With no rounding on the edges, this slab does very well, and is well-defined to begin with, with 2400 pixels by 1080. The refresh rate rises to 90 Hz for a fluidity that proves pleasant in everyday use, as do the infinite contrast and the brightness that adapts to all light environments. The only slight downside is the color temperature, which is a little cold, even with the settings.

Google continues to use its own processor for this new smartphone, and fluidity is the order of the day in almost all situations, with seamless switching from one application to another. For games, there's not much to complain about either, and there are no major concessions to be made to enjoy a good gaming experience, but beware, the Pixel 7 does have a tendency to heat up.

As with the previous model, Google is keeping things simple when it comes to photography, with a main sensor and an ultra-wide-angle module. There's no telephoto module, which means you'll have to opt for the Pixel 7 Pro. This doesn't stop Google from making its mark with a high-performance main module, which captures 12.5 million pixels and combines them into 50 million pixels, for impeccable results. Details are extremely rich and the sharpness very pronounced, making for a flattering and faithful rendering, which degrades only slightly in poor lighting conditions. The ultra-wide-angle module is also a success, and testifies to real progress on Google's part, now offering a homogeneous rendering, with detail and very good contrast. As for the rest, the portrait mode does very well, and the front-facing sensor will provide beautiful selfies. Video capture benefits from optical stabilization, and quality is well and truly up to scratch.

Although the Pixel 7's battery has shrunk slightly, the device's operating time before recharging never falls below the one-day mark, which is still decent. Beware of recharging, however, which is far from fast.
Review of the Google Pixel 7 done by Julien Hany the 2023/07/15
A question or a problem on the Google Pixel 7? Create a discussion and our team will answer you!
Key points
Processor frequency
2.85 GHz
Internal storage (Version 256GB 8GB RAM)
256 GB
Photo resolution (Front camera)
10.8 MP