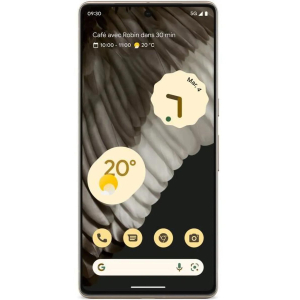 Operating system

Android 13

Processor frequency

2.85 GHz
Add my opinion

I have it (0)

I had it (0)

I want it (0)
Our opinion
Like all its competitors, Google is making a very high-end version of its flagship model, and so the Pixel 7 comes in a pro version, which goes one step further in terms of capabilities and performance.

In terms of design, Google is continuing along the same lines as with the Pixel 6, with a mix of glass for the front and metal for the photo sensors, creating a rather harmonious, if distinctly stylish, whole. Beware, though, that the smartphone is rather massive and heavy, and small hands, while they will appreciate the positioning of the physical buttons, will inevitably be a little bothered by this large smartphone. Fortunately, there's a choice of under-screen fingerprint sensor and facial recognition for unlocking. Connectivity is just what you'd expect from such a smartphone.

Like the Pixel 6 Pro, this version 7 boasts a very handsome screen, with an imposing diagonal (6.7 inches) but a resolution (3120 pixels by 1440) that's well suited to the task. On the plus side, the brightness is suitable for all environments and limits reflections, while contrast is infinite and the refresh rate can go up to 120 Hz. The only small negative point, or at least a minor one, is the calibration of the panel, which is not 100% accurate, even if this is difficult to detect with the naked eye!

The Tensor processor made in Google is still present. Its only negative point is a strong tendency to heat up when called upon, but this does not prevent it from delivering excellent performance and total fluidity in the most common uses. The same is true of the gaming experience, which is very pleasant and fast, even if the Google Pixel 7 pro does heat up in such situations.

This is a classic photo configuration, with three sensors for each type of use. The main module, with its 50 million pixels, produces images with 12.5 million pixels per combination, for files that are lighter in size but equally high in quality. The result is a high level of detail, excellent color management and, ultimately, very pleasing rendering. When the light fades, the quality of the photos is virtually unaffected, confirming Google's expertise in this field. The ultra-wide-angle module is up to the mark this time, with well-marked detail, realistic colors and even a macro mode that proves effective, even in low-light environments. The zoom module is sufficiently well worked out to offer a very correct rendering, with a certain fluidity in magnification. Finally, the portrait mode performs well, except on the finest strands of hair, and the front-facing sensor allows for good-quality selfies. Video capture is also very good, with good stabilization and well-rendered colors.

The Pixel 7 Pro's battery is clearly undersized, and the autonomy that goes with it is a little lacking in ambition. One day's use is a limit too often reached, even if power-saving modes limit the damage. What's more, recharging is by no means the quickest, taking almost two hours to complete.
Review of the Google Pixel 7 Pro done by Julien Hany the 2023/08/18
A question or a problem on the Google Pixel 7 Pro? Create a discussion and our team will answer you!
Key points
Photo resolution (Front camera)
10.8 MP
Internal storage (Version 512GB 12GB RAM)
512 GB
Processor frequency
2.85 GHz