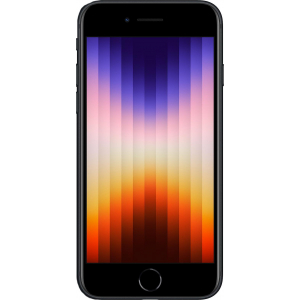 Operating system

iOS 15.3
Add my opinion

I have it (0)

I had it (0)

I want it (0)
Our opinion
Apple continues to evolve its small smartphone model with a 2022 version, its iPhone SE still having a certain success for those who don't want to bother with a classic smartphone without making concessions on the functionalities.

The design of this small smartphone is a bit worn out with its large borders and its large fingerprint reader on the front, which is a bit late compared to current standards. However, Apple has remained true to its standards in terms of finish, with a glass coating on the back and a manufacturing quality worthy of the largest smartphones, and small hands will be delighted to be able to use the smartphone without having to make any contortions. The waterproofing is even there with an IP67 certification.

For the screen, which is very reasonable in size, Apple has made no concessions on quality. The display of this iPhone SE 2022 is excellent, with a very sufficient definition (1334 by 720 pixels) and a very well respected colorimetry, with very faithful and well tempered colors. In addition, the contrast is very good, and the brightness allows the device to be used in all environments without too many worries.

The iPhone SE Mini 2022 is clearly not lacking in power with the same chip found on the iPhones 13 in particular. Suffice it to say that coupled with the optimization that Apple is engaged in, we have a user experience of the most pleasant, and it is not the games that will cause concern to this smartphone.

For the photo, we find the wide-angle module of 12 million pixels, which however benefits from the very muscular processor to offer advanced processing of the image. In a bright scene, the iPhone SE 2022 does very well, but it lacks a little detail in the image to be fully satisfied, because the processing neglects the sharpness a little. This small problem is also found in darker scenes, where the competition offers more readable shots: for all that, the small Apple model offers usable and especially realistic images. In portrait mode, you have to deal with software processing, which sometimes blurs inappropriate areas: better be warned. The sensor for selfies, with 7 megapixels, is very good. The video capture is done in very good conditions, thanks to an effective optical stabilization.

A small smartphone unfortunately means a small battery, but this version of the iPhone SE 2022 shows some progress, and the use of the device for a day does not cause stress about the lack of battery.
Review of the Apple iPhone SE 2022 done by Julien Hany the 2022/10/04
A question or a problem on the Apple iPhone SE 2022? Create a discussion and our team will answer you!
Key points
Internal storage (Version 256GB 4GB RAM)
256 GB
Comparison tests
Here is a list of comparison tests available between the Apple iPhone SE 2022 and others smartphones.

Apple iPhone SE 2022