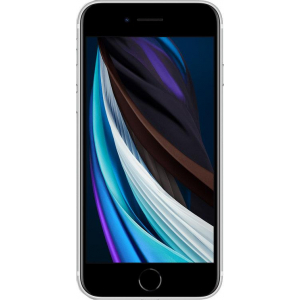 Processor frequency

2.65 GHz
Add my opinion

I have it (0)

I had it (0)

I want it (0)
Our opinion
Apple has decided to give a new version to its iPhone SE, with this 2020 version of the smartphone that refuses the gigantic screens. Apple has also decided to make it an affordable and attractive device in more ways than one.

The overall design will not surprise fans of the apple brand, this iPhone SE 2020 strongly resembling the iPhone 8. The result is a design rather dated unfortunately, with imposing screen edges and the absence of facial recognition, for example, with the return of the haptic button. Nevertheless, the finishes are flawless and the glass on the back panel is flattering to the touch, but it's a shame that it takes fingerprints and the photo module is a bit protruding. If you still notice the absence of a mini-jack port, there is indeed a watertightness certificate, always welcome.

The small screen of this iPhone SE 2020 (4.7 inches diagonal) is pretty good overall, even if we can regret the LCD technology. The colors are thus rendered with a quite respectable realism, except for a few colors that lack precision, without it being embarrassing. For this slab technology, Apple has managed to take care of the contrast and brightness, which is suitable for many environments.

For sound, Apple does not plan to put the mini-Jack port back, but does not provide an adapter for its Lightning port either. On the other hand, the loudspeakers are very high-performance, with a very honourable precision and power.

Where Apple did not skimp is on the power by equipping this iPhone SE 2020 with a very powerful processor, for an absolutely constant fluidity. The games also run with maximum detail and display speed.

Apple has made no special effort on the photo, relying on the old lens of the iPhone 8 and nothing more. This one with its 12 million pixels does not work miracles and we too often perceive noise as well as a lack of sharpness. In the dark, all these flaws get even worse with more smoothing, making the scene unreadable. Portrait mode is now available, and there is no need to blush. Also, the selfies produced by this iPhone SE 2020 are good and manage the exposure well. As for the video capture, the 4K fluid is there, which is rather satisfying.

The battery life is still not what you'd expect, but Apple remains faithful to its promises, namely about a day of battery life, without offering much more. While quick charging is possible, it requires a change of charger, as the one supplied with the device does not allow it.
Review of the Apple iPhone SE 2020 done by Priice the 2020/06/26
A question or a problem on the Apple iPhone SE 2020? Create a discussion and our team will answer you!
Key points
Internal storage (Version 128GB Nano SIM)
128 GB
Processor frequency
2.65 GHz