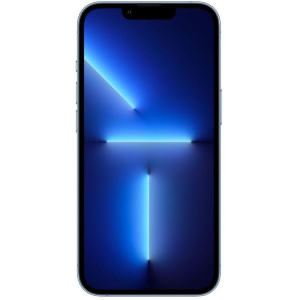 Processor frequency

3.22 GHz
Add my opinion

I have it (0)

I had it (0)

I want it (0)
Our opinion
Apple continues to decline its iconic smartphone in several versions to go a little further in features and capabilities, even if the changes may seem slight. This iPhone 13 Pro has some very nice capabilities to show off.

In terms of design, Apple hardly revisits its iPhone 12 Pro, which this 13th version strongly resembles. But the details end up being noticed: the photo notch is more discreet, the photo block at the back is more imposing and a few grams more on the scale in passing. For the rest, we find the general ergonomics with physical keys positioned as usual not to disturb, finishes impeccable, but we still deplore a little the presence of the Lightning port for charging and the screen could have been a little more optimized in terms of space.

The screen of this iPhone 13 Pro measures 6.1 inches diagonally, a size a little more modest than what we are used to seeing on smartphones of this range nowadays. Apple has also increased the refresh rate of the screen to 120 Hz, which makes it even more fluid and comfortable to use. In addition to the very good resolution, this smartphone has a very nice balance of colors, well rendered in their temperature as their balance. Finally, the brightness is impeccable, even in the brightest or darkest environments.

Power is once again at the rendezvous on this iPhone, which performs any task or runs any game without ever faltering. All this is the result of the combination of a powerful processor and a very nice software optimization.

For photography, there are three photo modules on this iPhone 13 Pro. The first one, wide angle, provides very nice images in terms of quality. If some smartphones can do better in terms of details, there is nothing to complain about the realism of colors, and photos are pleasant to look at. The quality persists even in difficult light conditions, with the choice of a well-managed exposure and light helping to keep details. The sensor that produces the wide-angle images also performs well for daytime shots, with the same choice of fidelity in rendering, as well as homogeneity, while maintaining a correct rendering when darkness invades the scene. Even the zoom module does well, while remaining modest in software processing. On the other hand, a dark environment will make the photo unusable.

Apple has recently decided to increase the size of the batteries and this benefits this iPhone 13 Pro which certainly does not exceed one day of intensive use, but this remains acceptable and does not require thinking about recharging it in the middle of the day. For that, no charger is provided, you will have to use what you have, and be patient, the complete charge being long.
Review of the Apple iPhone 13 Pro done by Julien Hany the 2022/07/25
A question or a problem on the Apple iPhone 13 Pro? Create a discussion and our team will answer you!
Key points
Internal storage (Version 1TB 6GB RAM, Dual Sim)
1024 GB
Processor frequency
3.22 GHz
Photo resolution (Front camera)
12 MP
Weak points
Battery life on stand by
22 h