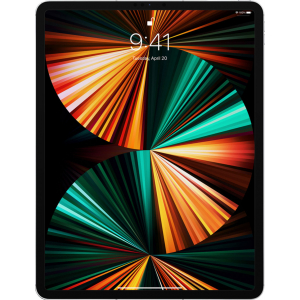 Operating system

iPadOS 14.5
Add my opinion

I have it (0)

I had it (0)

I want it (0)
Our opinion
Year after year, Apple continues to bring small evolutions to its iPad Pro, which has won the hearts of creative people with real power and flexibility, even if this 12.9-inch diagonal screen model is a bit different from a simple tablet.

Still beautiful with its metallic look as well as the very thin borders, this iPad Pro makes its effect even if it is not much different from the 2020 model. A bit heavy, but also thicker, this 2021 edition is still ergonomic, and can be unlocked without worries thanks to Face ID facial recognition. The connectivity has just evolved a little, but remains classic for Apple.

It is large but above all very successful: the screen of this iPad Pro 2021 is once again a success. There is already the refresh rate of 120Hz, a comfort that is hard to do without after trying it. This tablet also offers very faithful colors overall, and its brightness remains perfect in a dark or brightly lit environment, without leaving too much room for reflections. Contrast is excellent, which makes the iPad Pro 12.9 2021 display a success.

The power of this iPad Pro is impressive, once again with this M1 chip that really marked a huge evolution for Apple. No application puts this tablet to shame, which has the right response for editing, graphics or other software as well as for the latest games, without making any concessions on the graphic details.

Once again, even though taking pictures is not a primary function of a tablet, Apple has taken care of that part of the iPad Pro 12.9 2021. During the day, the main sensor and its twelve million pixels allow contrasting images, rich in details while being well exposed. The quality drops quite noticeably when the light decreases, but remains acceptable. The ultra wide-angle module does well in good light conditions, keeping details and exposure at good levels, without seeing these renderings completely degrade in more difficult conditions. The front sensor is also a success, with twelve million pixels and a face tracking function, and renders honorable selfies. The portrait mode is also there.

In terms of autonomy, this Apple tablet has nothing to be ashamed of and lasts more than 15 hours without having to be plugged into the mains, for a quick recharge.
Review of the Apple iPad Pro 12.9 2021 done by Julien Hany the 2021/09/02
A question or a problem on the Apple iPad Pro 12.9 2021? Create a discussion and our team will answer you!
Key points
Photo resolution (Front camera)
12 MP
Video resolution (Camera)
1080 p
Photo resolution (Camera)
12 MP
RAM (Version 1TB / 16GB RAM, Single SIM)
16384 MB
Internal storage (Version 256GB / 8GB RAM, Single SIM)
256 GB