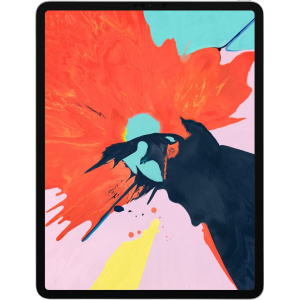 Processor frequency

2.25 GHz
Add my opinion

I have it (0)

I had it (0)

I want it (0)
Our opinion
Apple has set a new standard in tablets by making them suitable for the professional world, not only for their power but also for their functionality. This 12.9-inch model is at the border of ultraportable computers.

Apple has clearly worked on the design of this extra large tablet, almost eliminating the edges that are now without a central physical touch. While the dimensions are a little smaller on this new iteration, this iPad Pro 12.9 is still imposing and quite heavy, and therefore tiring in the long run. To unlock the tablet, Apple uses facial recognition, and FaceID does it well, but you always have to move your finger to access the home screen. The keyboard connector is on the back, the stylus is still there and the Lightning port makes surprisingly room for a much more common USB-c port, but a micro-SD card port and the Jack port are missing.

The 12.9-inch screen is as always with Apple a great success. Without the infinite contrast of OLED technology displays, this iPad Pro remains comfortable in this respect, and offers perfect brightness. For the rest, there is nothing to complain about, because the tile is reactive and the colours are rendered with great precision and fidelity, positioning itself among the best in terms of shade compliance.

For the sound, Apple could still have provided an adapter for the USB-c port to connect an old headset. On the other hand, great care has been taken with the speakers, of which there are 4 and which are particularly accurate, even at high volume.

The power of this iPad Pro is more than enough for anything you can ask for, and there's never a hitch or sign of slowing down. The same goes for games, even the most recent ones, which run at full speed with the maximum detail.

If photography is obviously not the primary function of a tablet, especially heavy like this iPad Pro, there is plenty of material to take very correct shots as long as the light is there, with marked details and balanced colors. The same cannot be said when the light decreases, and you have to be still to avoid losing quality through blur. For selfies, the quality is there, but the question of the weight of the device still arises.

The autonomy reaches 10 hours of autonomy without too many worries, and this remains an average that can be exceeded depending on the uses, the least energy consuming such as streaming to achieve almost fifteen hours of autonomy for this iPad Pro 12.9.
Review of the Apple iPad Pro 12.9 2018 done by Julien Hany the 2019/01/19
A question or a problem on the Apple iPad Pro 12.9 2018? Create a discussion and our team will answer you!
Key points
Processor frequency
2.25 GHz
Battery life over WiFi
10 h
Photo resolution (Front camera)
7 MP
Internal storage (Version 256GB)
256 GB
Photo resolution (Camera)
12 MP
Video resolution (Camera)
2160 p