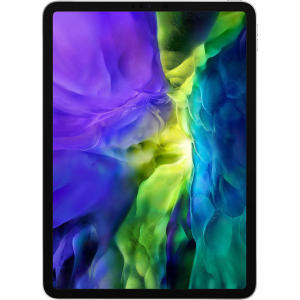 Processor frequency

3.2 GHz
Add my opinion

I have it (0)

I had it (0)

I want it (0)
Our opinion
Apple dominates the tablet sector quite clearly, but its iPad Pro model is a great success, so competition is coming to the sector. This 2020 version intends to further assert the leadership position of the apple firm.

Innovation is not too much at the design level, but since this one is very successful, there is nothing to complain about. It fits well in the hand, has the right weight and a reduced front: the iPad Pro 11 2020 edition is already seducing. Very well finished, it doesn't have a fingerprint reader, but it works perfectly with facial recognition, and this iPad also offers USB-c charging, which is more common, which will help in case of urgent recharging.

This Apple iPad Pro 11 has a great screen. Generously defined with its 1,668 by 2,388 pixels, it also benefits from a 120 Hz refresh rate, further enhancing visual comfort. In addition, the colors are rendered with great precision, and the contrast and brightness are ideal for all uses and environments.

For sound, true to its long-standing policy, you don't have to rely on a mini-Jack port, or even an adapter for the USB-C port. On the other hand, the 4 loudspeakers provide a beautiful sound, with excellent stereo.

In terms of power, this iPad Pro 11 is once again very well equipped and capable of running everything it is asked to do in ever slow down, and the games, for their part, turn to maximum graphic detail.

This doesn't seem to be the primary use of a tablet, but the photo part of this iPad Pro 11 2020 edition is nevertheless richly endowed with two lenses and enough to handle augmented reality. In good light conditions, the rendering of the main module is honorable, with a convincing sharpness and contrast. This is already much less the case in the dark, which greatly affects the shots. The ultra-wide-angle module barely does well in good light conditions, but in the dark, the rendering is not far from useless. On the other hand, there is nothing to complain about the portrait mode, which performs well overall, or the sensor on the front panel, which offers quality selfies. The sensor dedicated to augmented reality has a limited function, but it is still effective and therefore a pleasant surprise.

With its thirteen hours of autonomy, this iPad Pro is enduring and accompanies its users without flinching, regardless of its use.
Review of the Apple iPad Pro 11 2020 done by Julien Hany the 2020/09/28
A question or a problem on the Apple iPad Pro 11 2020? Create a discussion and our team will answer you!
Key points
Photo resolution (Front camera)
7 MP
Video resolution (Camera)
2160 p
Photo resolution (Camera)
12 MP
Processor frequency
3.2 GHz