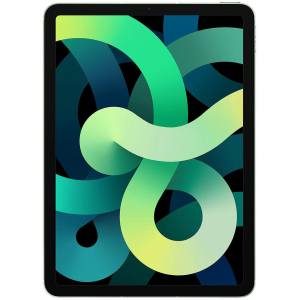 Add my opinion

I have it (0)

I had it (0)

I want it (0)
Our opinion
Apple reigns supreme, or almost so, in the tablet sector, and the iPad Air has found its audience by being positioned by the Apple brand in the professional sector, or at least for professional purposes.

With an exemplary sobriety in terms of design and very close to the iPhone 12 in particular, this iPad Air version 2020 seduces by its assertive lines. If it is close to the iPad pro, it is a hair wider and thicker, but nothing prohibitive. The similarity is enough to allow the use of the Pro accessories on this new iPad Air. No facial recognition this time, but a fingerprint reader rather effective and well positioned. There's no more Jack port for an old headset, and sound is provided by two speakers. It's certainly two less than the iPad Pro, but their efficiency and precision are not in doubt.

As always with Apple, the display is of excellent quality. Richly defined, with 2360 by 1640 pixels, the screen also offers colors very faithful to reality, and the temperature of these is also perfect or almost. With a nice brightness and a contrast in the standard, there is not much to complain about this iPad Air 2020 in the eyes of its users.

In terms of power, it is almost impossible to put this new generation iPad Air in trouble, which inherits the latest processor from the firm and therefore performs all tasks without ever slowing down. Games run smoothly, and even professional applications such as video editing or other do not suffer at all.

If the photo is not really decisive for a tablet, it is necessary to note that the single module, with its twelve million pixels, has quite a lot of qualities when the light is strong with a rendering of the most correct, thanks to the software processing. Of course, this is not enough in bad light conditions, but we should not ask too much. The front sensor is effective for video conferencing, for example. For video capture, this iPad Air 2020 does more than well, even if it is not one of the main uses of a tablet.

In terms of autonomy, this tablet remains in the good figures that Apple usually offers, with about a day and a half of use, or even two without having to restrict too much on the uses.
Review of the Apple iPad Air 2020 done by Julien Hany the 2021/04/24
A question or a problem on the Apple iPad Air 2020? Create a discussion and our team will answer you!
Key points
Photo resolution (Camera)
12 MP
Internal storage (Version 256GB)
256 GB
Video resolution (Camera)
1080 p
Photo resolution (Front camera)
7 MP