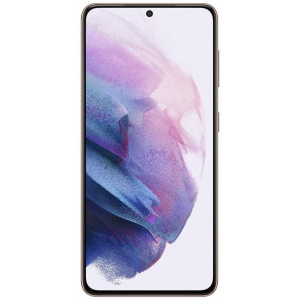 Operating system

Android 11

Processor frequency

2.9 GHz
Add my opinion

I have it (0)

I had it (0)

I want it (0)
Our opinion
Samsung has become one of the most recognized manufacturers of smartphones and each new iteration of its Galaxy is an event, with a combination of power and technological advances, and this Galaxy S21 is no exception to the rule.

The design of this new flagship of the Korean brand has some assets to highlight, including the integration of the photo part, which proves to be quite original and successful. The choice of a (neat) plastic coating is a bit surprising, but the aluminum of the slices brings a premium touch and the weight is very reasonable, even if the generous dimensions will hamper ergonomics for small hands. If it is possible to put two SIM cards, there is no possibility to add memory: you will have to make do with the proposed storage.

As always or almost always, Samsung has taken care of this tile and on these 6.2 inches diagonal, very defined images are displayed, and the resulting comfort is further amplified by the screen refresh rate at 120 Hz. By choosing the natural mode in the settings, the colors are displayed faithfully, and both contrast (infinite) and brightness are there for this Samsung Galaxy S21. It will just have to pay attention to reflections, a little too marked.

There is no mini-Jack port, as it is now the case on most smartphones. However, Samsung provides a USB-C adapter, and has taken care of the quality of the speakers of this Galaxy S21, which have a precise and pleasant rendering.

In terms of power, this Galaxy S21 doesn't have to blush at all and is particularly comfortable, whatever the task at hand. No game is currently too demanding for the Galaxy S21, and the fluidity is always there.

A trio of sensors makes up the photo part of this smartphone. The main and most classic sensor offers 12 million pixels. This one is more than correct, with a nice level of detail but tends to decrease at the edges. It offers a much better rendering in 64 million pixel mode, which is made possible by playing with the image format and focal length, and the result pays off, with much more detail, and as the only defect a certain overexposure. On the other hand, this gain is not found too much on shots taken in the dark. In telephoto mode, one should not be too demanding, especially on sharpness, which can be improved, but it is even more annoying when darkness prevails. For the ultra-wide-angle mode, there is an automatic correction of the distortions inherent to this type of lens: a good idea on paper, but here exaggerated and causing the opposite effect. For all that, the details are there, but this is not found in an environment a little too dark. On the satisfaction side, there is the portrait mode, which recognizes faces and manages backgrounds well, selfies even limited to 10 million pixels are successful, and the video capture is done with real comfort and a perfect result.

For autonomy, Samsung did not see wide enough with the onboard battery, undersized with a visible lack of optimization of the management of autonomy. A day and a half is too little, and too restrictive: as for the absence of a charger, it is obviously harmful and deprives the Korean brand of the possibility of a very fast and optimized recharge.
Review of the Samsung Galaxy S21 done by Julien Hany the 2021/03/10
A question or a problem on the Samsung Galaxy S21? Create a discussion and our team will answer you!
Key points
Photo resolution (Front camera)
10 MP
Internal storage (Version 256GB / 8GB RAM, Single SIM)
256 GB
Processor frequency
2.9 GHz
Comparison tests
Here is a list of comparison tests available between the Samsung Galaxy S21 and others smartphones.

Samsung Galaxy S21