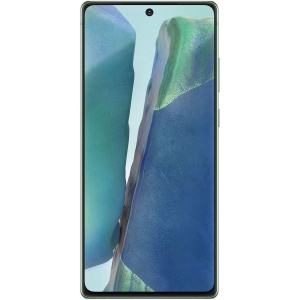 Operating system

Android 10.0

Processor frequency

2.73 GHz
Add my opinion

I have it (0)

I had it (0)

I want it (0)
Our opinion
Samsung's Galaxy Note range still has a few followers, especially for its stylus, but the Korean brand is finding it increasingly difficult to make it coexist with its classic range, which is similar in size.

Imposing, this Galaxy Note 20 is certainly imposing, and despite a nice optimization of the front, it takes a big hand to handle it. The care taken with the finishes and general lines is however in line with what Samsung always offers. The choice of the plastic back may surprise but it allows not to take fingerprints, and it is very neat to be pleasant once in hand. The style, once again with Samsung, is a real success and proves to be a real asset. In terms of surprises, the absence of a micro-SD card port on such a large smartphone is a bit surprising.

The screen of this large smartphone meets all the quality standards to which we are accustomed Samsung. Very large (6.7 inches diagonal) and elongated (ratio 20:9), this nicely defined panel (2400 by 1080 pixels) does not benefit from a very high refresh rate with a 60 Hz standard, but with a quick detour in the settings, the respect of colors and their temperatures is not far from ideal. In the same way, the Galaxy Note 20 benefits from an infinite contrast, always as appreciable, and its brightness makes it ideal for all uses, strong lights as well as dark environments.

In terms of power, this smartphone is a great companion when it's not fun to use, offering a good fluidity in multitasking, but difficulties appear very quickly when a game is launched. It is then necessary to deal with significant drops in fluidity and speed, a little disappointing given the category of the device.

There are three sensors dedicated to photography on this Galaxy Note 20. The main and more classic one displays only 12 million pixels, but it can be enough, and this is the case here with a nice sharpness, a nice homogeneity and a well-managed exposure. Nothing to complain about, and in the dark, if the treatment proposed by Samsung is aggressive, the photos are still readable and pleasant. The ultra-wide-angle module is a little too little in detail and the treatment, once again, is a little too marked, especially if the surrounding light is low. This Galaxy Note 20 offers a telephoto mode by a "trick", but in the end it is quite successful by Samsung, with pictures that do not demerit. It is thus possible to have shots with 64 million pixels, with a tighter framing but a rendering that benefits positively.
The sensor dedicated to selfies is doing very well, but it may lack a little subtlety in the smoothing of faces. The portrait mode is also of good quality and handles backgrounds well. The video capture is up to 8K, and remains fluid in all circumstances, which is very impressive.

The Korean manufacturer was wrong on the issue of autonomy, which is very low and hardly exceeds one day for a user even a little bit thrifty. Indeed, the battery seems somewhat undersized for such a smartphone.
Review of the Samsung Galaxy Note 20 done by Julien Hany the 2021/02/14
A question or a problem on the Samsung Galaxy Note 20? Create a discussion and our team will answer you!
Key points
Photo resolution (Front camera)
10 MP
Processor frequency
2.73 GHz