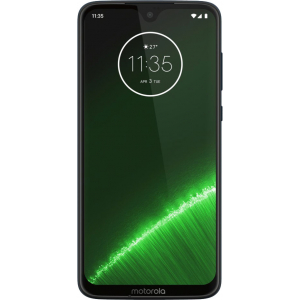 Operating system

Android 9.0

Processor frequency

1.8 GHz
Add my opinion

I have it (0)

I had it (0)

I want it (0)
Our opinion
Motorola is struggling to regain the aura it had a few years earlier, but the company is trying to develop a coherent range of smartphones, like this classic G7 Plus Moto but with some distinctive promises.

The design of this smartphone is rather attractive, with bevelled edges for a pleasant grip, thin lines but a plastic as bright as it is quick to take fingerprints. It is also a pity that the photo sensor is so close to the fingerprint reader, confusion will occur from time to time. The facade is elegant, well optimized, and only the waterproofing is missing to complete the picture.

The 6.2-inch screen does not shine with its accurate color reproduction. Indeed, red and blue shades predominate and this is a little embarrassing. Fortunately, we still have a slab that is richly defined with 2280 by 1080 pixels, which relieves during long sessions of use. Similarly, the brightness is very satisfactory and the contrast in a good standard, to make the display of this Moto G7 Plus satisfactory as a whole.

The mini-jack grip of this Moto G7 Plus lacks power but also balance: on the other hand, it should be noted that there is almost no distortion. The only on-board speaker does quite well overall.

While this smartphone is not a power monster, it does everything it is asked to do without slowing down, moving from one application to another without overheating. For the games, it will just be necessary to make some graphic concessions so that it runs smoothly.

The photo is taken by two sensors, one with sixteen million pixels and one with five million to focus on. While the whole works well when the light conditions are favourable, with correct details, faithful colours and controlled smoothing, the same cannot be said when the darkness is felt. The details are lost in a very marked smoothing and the quality suffers quite clearly, without this being catastrophic. On the other hand, there is nothing to complain about the quality of the selfies, very honourable with many effects on the program, which fit into a quality photo application. Video recording is also well done.

A day and a half, even two without too much restriction, here is the honourable score of this Moto G7 Plus, which ranks among the good students. The best part is the fast charging, with the possibility of recovering a large part of the battery in fast charging, at the cost of a certain equipment and an annoying heating.
Review of the Motorola Moto G7 Plus done by Julien Hany the 2019/07/05
A question or a problem on the Motorola Moto G7 Plus? Create a discussion and our team will answer you!
Key points
Photo resolution (Front camera)
12 MP