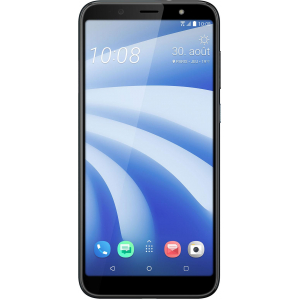 Operating system

Android 8.1

Processor frequency

1.8 GHz
Add my opinion

I have it (0)

I had it (0)

I want it (0)
Our opinion
HTC still has some difficulties in getting back to where it was at the beginning of the smartphone era, despite some interesting models. Targeting the mid-range segment, HTC U12 Life is likely to face stiff competition.

The design of this HTC is rather successful, with a two-tone plastic, with stripes that help to ensure a good grip. If the finishes are excellent, it is a pity that the screen edges have not been optimized, so the smartphone could have been less imposing. Otherwise, it has all the expectations of such a smartphone in 2019, between the dual SIM card (or micro-SD card), NFC and the fingerprint reader that is fine, with the USB-c port.

The slab is 6 inches diagonal, with good definition for visual comfort. On the other hand, it suffers from a largely perfectible respect for colours, with tints that turn blue in addition: fortunately, a passage through the adjustments can reduce this problem. The concern is that the contrast is not more convincing, and that the brightness, if it is good at its maximum, is too high in the other case not to disturb in case of night reading.

There is indeed a mini-jack port on the HTC U12 Life, which does its job properly even if the lack of power can be felt. On the other hand, the loudspeaker is just mediocre in its reproduction.

While the U12 Life is not the brand's most powerful smartphone, what it delivers in power is sufficient for the vast majority of uses, unless you launch many demanding applications at the same time. The games will require some graphic concessions to keep a constant fluidity, but nothing too embarrassing.

In the photo, HTC has equipped its U12 Life with two sensors that work together. The tandem works well for daytime photos, with a beautiful stitch, a strong contrast and pleasant details, which fade just a little on the edges, but faithful colors. In the darkness, unfortunately, it deteriorates: the details are smoothed to excess, the colours drool and the whole thing deteriorates very strongly. The portrait mode suffers from too much play on the depth of field. The sensor on the front, for selfies, suffers from the same defects as the two main ones, namely a very good rendering in full light, and degraded in semi-darkness. On the other hand, video recording is not a major concern for the HTC U12 Life.

The generous battery benefits this U12 Life, which shows great endurance because the smartphone arrives safely two days after use away from any electrical outlet, making it a very good model.
Review of the HTC U12 Life done by Julien Hany the 2019/03/15
A question or a problem on the HTC U12 Life? Create a discussion and our team will answer you!
Key points
Internal storage (Version 64GB / 4GB RAM, Dual SIM )
64 GB
RAM (Version 64GB / 4GB RAM, Dual SIM )
4096 MB
Photo resolution (Front camera)
13 MP