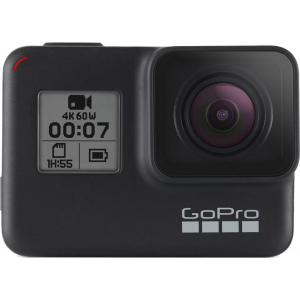 Video resolution (60 fps)

4096x2160 pixels
Add my opinion

I have it (0)

I had it (0)

I want it (0)
Our opinion
Very regularly, GoPro brings a small evolution to its emblematic camera, bringing small corrections and improvements to what remains a reference, despite the strong competition. So here is version 7 for the Hero Black.

The regular customers of the range will not be surprised in the handling, with a few exceptions of slightly different shortcuts. The others will have to go through a short learning time, also with a few small "aberrations" in terms of navigation, with a touch a little capricious. Voice control can be an effective alternative, but will depend on the sound environment for its effectiveness. Using one of the applications (iOS or Android) to control the camera is a very good thing, and easily replaces the small screen: it is however a pity to see that there are real differences in the functionalities of the applications.

The photo quality of this GoPro Hero 7 Black is quite good, thanks to complete settings that go hand in hand with a fairly accurate and realistic final result, thanks also to a well-managed ISO mount. However, it is necessary to do with a rather long reaction time and some difficulties in case of weak light. For a one-time use, there is no reason to complain. In video, the real function of this camera action, you must first find yourself in the huge choice of formats and qualities offered, with a choice on stabilization or not. Each mode has its own specificity, but the quality is still very good , with a few points to note, such as the Full HD mode at 240 frames/second ideal for slow motion or modes to make videos with accelerated effect. The rendering is precise, contrasting and dynamic at the same time, flattering while remaining realistic. The stabilization now proposed has a decisive effect on quality, which is less subject to the risks of capture. This one benefits from a better sound, with a very successful wind management and parasitic character.

The autonomy of this GoPro Hero 7 Black reaches about 80 minutes, which tends to require an external battery.
Review of the GoPro Hero7 Black done by Julien Hany the 2019/01/19
A question or a problem on the GoPro Hero7 Black? Create a discussion and our team will answer you!
Key points
Waterproof (without case) (Waterproof)
10 m
1440 x 1080 (1080pS) 16:9
Yes
1920 x 1440 (1440p) 4:3
Yes
2704 x 1524 (2,7K) 17:9
Yes
4096 x 2160 (4K Cin) 17:9
Yes
Weak points
Street price (US)
399.99 $
Comparison tests
Here is a list of comparison tests available between the GoPro Hero7 Black and others action cameras.

GoPro Hero7 Black

GoPro Hero7 Black