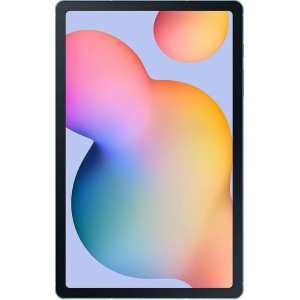 Operating system

Android 10

Processor frequency

2.3 GHz
Add my opinion

I have it (0)

I had it (0)

I want it (0)
Our opinion
Samsung knows there's a market for a quality Android tablet at a tight price. This Lite version of its Galaxy Tab has serious assets to find its audience.

The appearance is deceptive because the first glance does not allow to see big differences with its big sister, except in thickness and weight, but it remains light. The format has evolved slightly, but the 5:3 dimensions make the Galaxy Tab S6 Lite pleasant to handle. The style is now fixed on the side of the shelf, and the overall ergonomics are satisfactory. The downside is the absence of a fingerprint reader, as biometric recognition has some failures.

The screen of this Galaxy Tab S6 Lite is quite correct. With its definition of 2000 x 1200 pixels, it is pleasant to look at, but its respect of the colors is largely perfectible, especially compared to the competition which often does better. The same goes for the brightness, which is less than one would expect, especially since it remains too strong in the dark. A good point however for the contrast, generous and therefore comfortable for the eyes.

Very good surprise, there is still a mini-jack socket to connect an old pair of headphones for example, but if this output is powerful, the stereo it provides is very perfectible. The good surprise comes from the speakers, of good quality even if they could have had more trunk.

As far as power is concerned, we shouldn't expect miracles from this tablet, which has to make do with a light processor and therefore with uses that are just as light. For gaming, you'll have to make real concessions to maintain fluidity.

The photo part of a tablet is always a little accessory, and it's better that it remains so on this Galaxy Tab S6 Lite, quite disappointing with a slightly blurry rendering, even in good light conditions. The sensor on the front panel will be enough to make a little visio, not much more.

Equipped with a generous battery, the Galaxy Tab S6 Lite does not demerit autonomy level, even if some other models do better. However, you can count on it for more than two days without making any big concessions in terms of usage, but the quick charge, which is possible, will require the use of another charger than the one provided.
Review of the Samsung Galaxy Tab S6 Lite done by Mathieu Hany the 2021/01/04
A question or a problem on the Samsung Galaxy Tab S6 Lite? Create a discussion and our team will answer you!
Key points
Internal storage (Version 128GB / 4GB RAM, Single SIM)
128 GB
Processor frequency
2.3 GHz
Photo resolution (Camera)
8 MP
Video resolution (Camera)
1080 p
Photo resolution (Front camera)
5 MP