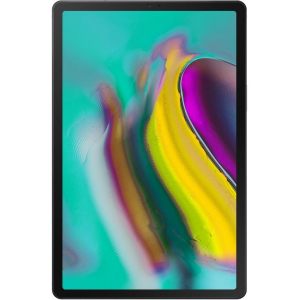 Operating system

Android 9

Processor frequency

2 GHz
Add my opinion

I have it (0)

I had it (0)

I want it (0)
Our opinion
Samsung continues to develop tablets and is still one of the best competitors to the near hegemony of Apple iPads. This Galaxy Tab S5e targets the upper part of the mid-range market, with a very attractive price-quality ratio.

The handling of this tablet is very pleasant, as it is very light and displays controlled dimensions, thanks to particularly thin screen edges. The rear cover, all in aluminium, is rather chic and sober. All ports and physical keys naturally fall under your fingers, and the fingerprint reader is also used to start up efficiently. It is possible to add a SIM card or micro-SD, but if there are many speakers - 4, there is no mini-jack port.

The 10.5-inch screen is richly defined, with 2500 by 1600 pixels, for constant comfort. To enjoy the best color fidelity, you have to go through the settings, and with this little manipulation, the rendering is perfect. Only the most experienced eyes will see a slight defect, but it remains imperceptible. The excellent level of brightness, with infinite contrast, makes the Galaxy Tab S5e display a resounding success.

No mini-jack port on this tablet so, but Samsung provides an adapter to connect your old headset or pair of headphones, all with a correct rendering except the stereo, a little recessed. The loudspeakers do what they are asked to do correctly, with the right power and precision.

Powerful, the Galaxy Tab S5e is, even if we are not at the same level as Apple, for example. However, there is nothing to fear: slowdowns are due to absent subscribers and fluidity is there. The games run in very good conditions, without slowing down even with a high level of detail, without the tablet heating up.

In the picture, tablet manufacturers are now making efforts, even on this accessory function. The Galaxy Tab S5e does not escape this and offers a fairly correct rendering, which even if it tends to turn red, offers a good level of detail. Obviously, darkness strongly affects these beautiful results, but the main thing is there. There is not too much to say about selfies and therefore the camera on the front, which will be enough for videoconferences for example.

A generous battery provides a very nice autonomy to the Galaxy Tab S5e, which can last almost two days without needing to be recharged, a very good score.
Review of the Samsung Galaxy Tab S5e done by Julien Hany the 2019/09/10
A question or a problem on the Samsung Galaxy Tab S5e? Create a discussion and our team will answer you!
Key points
Photo resolution (Camera)
13 MP
Internal storage (Version 64GB, 4GB RAM)
64 GB
RAM (Version 64GB, 4GB RAM)
4096 MB
Video resolution (Camera)
2160 p
Photo resolution (Front camera)
8 MP