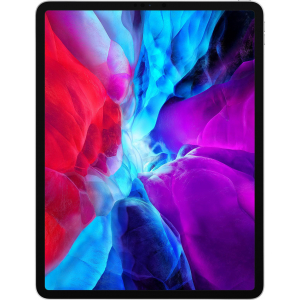 Processor frequency

3.8 GHz
Add my opinion

I have it (0)

I had it (0)

I want it (0)
Our opinion
At the border between the tablet and the laptop is this iPad Pro 12.9, which comes back with a new version, especially for graphic designers, who will find here a hybrid device, not necessarily easy to understand but with real qualities.

As always with Apple, the finishes of this tablet are above suspicion, it is neat and very elegant, with a nice optimization of the front panel, with four speakers on the edges. Unfortunately, there's nothing for Apple to do about the weight of the tablet, which tires the arms quite quickly and makes it difficult to handle over an extended period of time. Connections otherwise remain unchanged, and the choice of USB-C seems final for Apple, which is rather a good thing.

The display is flawless, with features of a very high level. The definition is very generous, the refresh rate at 120 Hz brings a comfort far from negligible. The colors are also rendered with great precision, the brightness is very good, and there is only the contrast that can lend the side to criticism, without it being very annoying, far from it.

As expected, no port for an old headset in mini-Jack connection, and no USB-c adapter either. On the other hand, the four speakers do the job efficiently, for a very satisfying rendering.

Apple didn't skimp on the power of its tablet, which benefits from a latest-generation processor that can absorb all the uses and is just as comfortable for games, which never slow down, so to speak.

It's hard to imagine taking pictures with such a heavy and imposing tablet, but this iPad Pro 12.9 is nevertheless richly equipped, with two lenses and enough to handle augmented reality. As on its 11-inch version, the main module delivers beautiful images, with a precise rendering overall, even if this is no longer the case in the dark. The ultra-wide-angle module is much more difficult, which is not surprising either. As for the portraits, they are quite successful, and the selfies are flattering and rewarding for lifting the tablet! The sensor dedicated to Augmented Reality can have interesting professional applications, as it is quite efficient and is therefore a good surprise.

In terms of battery life, the 2020 version of this large iPad Pro 12.9 is doing well, even very well, even if its score is still slightly down on the previous version.
Review of the Apple iPad Pro 12.9 2020 done by Julien Hany the 2020/09/28
A question or a problem on the Apple iPad Pro 12.9 2020? Create a discussion and our team will answer you!
Key points
Photo resolution (Front camera)
7 MP
Video resolution (Camera)
2160 p
Processor frequency
3.8 GHz
Photo resolution (Camera)
12 MP