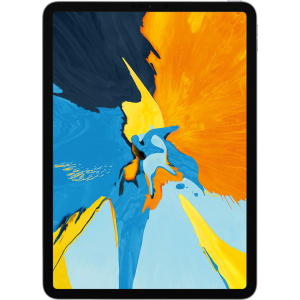 Processor frequency

2.25 GHz
Add my opinion

I have it (0)

I had it (0)

I want it (0)
Our opinion
Apple continues to successfully roll out its professional iPad, making tablets once again attractive to business and mobile workers, especially with this 11-inch format.

The design of this iPad Pro 11 is very elegant, with screen edges that have been greatly reduced in the absence of the central button, replaced by a very effective facial recognition unlocking system. The extreme sobriety of the whole thing also sees the disappearance of the Lightning port in favour of the USB-c, but there is still no mini-jack port, nor even an adapter. Fortunately, the sound is provided by four well-made speakers.

For the display, Apple has not opted for an Oled panel, but the quality is there. Very well defined (1668 by 2388 pixels), the comfort is there and the user does not feel any eye fatigue. The colours are well rendered, but there is a slight problem of colorimetry, not too disturbing for all that. Nothing to say about the brightness, perfectly adjusted in all environments.

If the absence of a mini-jack port is regrettable, especially without a USB-C adapter, it should be noted that this iPad Pro 11 has four speakers and that they together provide very good sound, which allows you to enjoy this tablet for all types of leisure purposes as well.

The iPad Pro 11 is extremely powerful, almost never slows down and supports the simultaneous opening of many applications very well. The pleasure of use is also evident in the games that are very comfortable on this tablet.

The embedded photo sensor is quite correct. Obviously, this is not the primary purpose of a tablet, but the iPad Pro 11 will be able to troubleshoot without too much trouble when the light is on. In the dark, however, photos are strongly affected, but this is still quite common. The front camera will be ideal for videoconferencing.

Apple's promise is still to provide at least ten hours of battery life: it is, and even a little more, without panicking the meters. Very good point however, the standby mode does not consume any battery at all or almost.
Review of the Apple iPad Pro 11 done by Julien Hany the 2019/09/10
A question or a problem on the Apple iPad Pro 11? Create a discussion and our team will answer you!
Key points
Processor frequency
2.25 GHz
Battery life over WiFi
10 h
Photo resolution (Front camera)
7 MP
Video resolution (Camera)
2160 p
Photo resolution (Camera)
12 MP