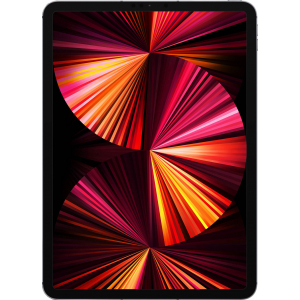 Operating system

iPadOS 14.5
Add my opinion

I have it (0)

I had it (0)

I want it (0)
Our opinion
Despite the competition, the field of tablets remains quite dominated by Apple, the apple firm having known with some models of its iconic iPad dominate the market. This iPad Pro 11 2021 does not change a winning formula, intended for a public that uses its tablet for professional purposes.

The design is as sober and elegant as ever, with aluminum as the raw material, the logo in its usual place on the back and only the photo block has changed on this iPad Pro 11 2021 edition. The front is also stripped down, with just the face unlocking tool and Face ID, and the physical keys have not changed location, as well as the four speakers, on which there is nothing to complain about. For charging, it is USB-C that is used.

As always with Apple, the screen of this iPad Pro 11 is very well made, despite the not so recent LCD technology, which is however accompanied by a high refresh rate, which is always appreciable in use. If the contrast is very good, the brightness is also good and there is not much to fear in terms of readability, especially thanks to an excellent "resistance" to reflections. The respect of the colors is of course at the rendez-vous.

The power of this tablet is outrageous, and it's almost impossible to catch it at fault, as the processor does everything you ask of it in the blink of an eye. The iPad Pro 11 2021 also shines in the most demanding applications, such as those dedicated to editing or graphics creation.

If photography is not the priority for a tablet, Apple has still equipped this iPad Pro 11 version 2021 with two photo sensors, one classic and another for the ultra wide angle. The main sensor does well in a bright environment, but shows its limits in the dark, which is quite normal. Surprisingly, the ultra-wide angle module gives honorable results, and limits the damage in a dark room. On the front, it's a 12-megapixel sensor with optical stabilization and a wide viewing angle for well-rendered video conferences.

Apple's little work on autonomy has paid off and this tablet, with a standard size battery, offers almost two days of use before recharging, which is in the high range that this kind of device offers.
Review of the Apple iPad Pro 11 2021 done by Julien Hany the 2021/08/10
A question or a problem on the Apple iPad Pro 11 2021? Create a discussion and our team will answer you!
Key points
Internal storage (Version 256GB / 8GB RAM, Single SIM)
256 GB
Photo resolution (Front camera)
12 MP
Video resolution (Camera)
1080 p
Photo resolution (Camera)
12 MP
RAM (Version 1TB / 16GB RAM, Single SIM)
16384 MB