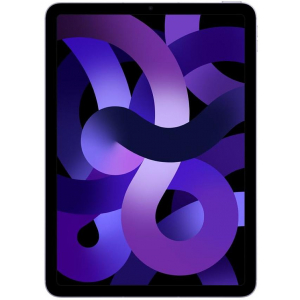 Operating system

iPadOS 15.4
Add my opinion

I have it (0)

I had it (0)

I want it (0)
Our opinion
On the tablet market, Apple has a very well-made range with its iconic iPads, and the Air model benefits from a new version, which is now equipped with the famous M1 processor that ensures a more than generous power.

Those who are familiar with the design of the iPad Air won't be disoriented when they get their hands on this new version, which is almost identical to the previous one. The physical keys are arranged in the same way and fall well under the fingers, and the smart connector for screen protectors is still there. The grip is still as premium, between the quality materials and the sobriety of the whole and makes the user very happy. To charge, Apple has opted - finally - for a USB-C port and delivers a charger in the box.

The screen of this new iPad Air has not changed much, with the same resolution (1640 by 2360 pixels), which is more than enough to read long texts without discomfort for example. If it is not possible to act on the calibration of the screen, it is by default perfect or almost. Where Apple succeeds again in convincing is in the brightness, which knows how to be generous when it is necessary but also to lower for dark environments and therefore require it to drop sharply. The contrast is in a good range, similar to previous models, already convincing.

For the sound, if it is always necessary to do without a plug for an old wired headphone, nothing to complain about the speakers, quite bluffing by their quality and their precise rendering.

The power is more than there, the M1 chip has already largely proven itself and it shows with an absolutely perfect fluidity, including in the most consuming uses as 3D modeling. The games never lack fluidity, even the most recent ones, with maximum detail.

If a tablet has little use for taking pictures, this capacity is not to be neglected for video conferencing in particular, and this new Apple model does not escape it and offers a very flattering rendering with the front sensor thanks to a very successful dynamic processing. Photos with the sensor on the back of the iPad Air 2022 are less conclusive, but the overall quality is good and the video capture is quite satisfactory.

The autonomy of this iPad Air 2022 is still good, and especially seems to adapt to your uses to accompany you a good ten hours and despite some uses that seem to affect the battery more than others, the Apple tablet fulfills its mission on this point. On the other hand, you will have to be patient during the recharge, which takes time to be complete.
Review of the Apple iPad Air 2022 done by Julien Hany the 2022/10/07
A question or a problem on the Apple iPad Air 2022? Create a discussion and our team will answer you!
Key points
Photo resolution (Front camera)
12 MP
Video resolution (Camera)
1080 p
Photo resolution (Camera)
12 MP
Internal storage (Version 256GB 8GB RAM, 5G)
256 GB
Dual SIM (Mobile network)
Yes