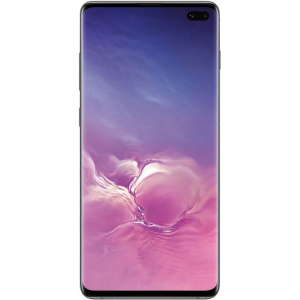 Operating system

Android 9.0

Processor frequency

2.8 GHz
Add my opinion

I have it (0)

I had it (0)

I want it (0)
Our opinion
The Samsung Galaxy S10 has several variations, and this S10+, as its name suggests, is aimed at fans of very large screens, while retaining the very advanced features of its "little" brother.

The first contact is more than flattering, with an elegance that gives nothing to complain about, with neat lines, beautiful materials and a very nice optimization of the front facade. Its very reasonable weight, 175 grams, surprises very pleasantly. The only regret is that the Galaxy S10+ seems a little fragile after having been optimized, and its rear coating quickly gets dirty with fingerprints from any manipulation, undermining the smartphone's elegance. In his initial promise, it is clear that it is not a device to be used with only one hand, but the physical keys would certainly have been better placed differently, with a key for the useless Bixby personal assistant in our country (but reprogrammable). The fingerprint reader is located under the screen, but it still has a lot of misfires, which is sometimes very frustrating. On the other hand, there is no lack of technology, with NFC, IP68 standard sealing, USB-c port and even a mini-Jack plug.

The immense size of this slab - 6.4 inches - goes hand in hand with impeccable quality, just as Samsung has long offered on its top of the range. There is nothing wrong with the display of this S10+: the infinite contrast goes hand in hand with a brightness that adapts to all types of brightness, but for reflections, screen protection can have a bad effect on them. The colour rendering is very good, maintaining a nice balance and a natural look in the basic settings, which can obviously be modified for those who prefer very bright colours. The basic resolution is more than enough to enjoy a display without eyestrain, but it can be even higher for more finesse by reaching 3040 by 1440 pixels for ideal comfort.

Thank you Samsung for continuing to provide a mini-Jack plug at its top end, which will allow you to use an old (but effective) headset for example. Moreover, it is of an excellent level. Sound excellence does not stop there, as the two speakers also provide a high quality sound reproduction.

Of course, the Galaxy S10+ is a power monster and never shows any slowdowns, even when it is very busy and many applications are running at the same time. Video games are also perfectly comfortable, but there is still a problem, which is that this smartphone heats up in a surprising way and for no real reason, in a slightly too sensitive way.

The photo part uses three sensors, designed to be complementary: a classic 12 million pixel sensor, a 16 million pixel sensor to ensure wide angle and finally a last one for optical zoom. The wide angle is a success, with a very good rendering that has just the defect of not being really homogeneous with edges that lack details. The main sensor is very efficient, with realistic colors and the right amount of detail, with a well-managed dive. However, it is missing a little when you approach the edge of the images. In a dark environment, the S10+ is doing very well again, with a well-controlled smoothing that does not significantly degrade the image. It's a pity that the homogeneity of the scene here too is not ideal. The module that is used for zooming is relatively effective but has limitations that appear especially in dark environments. For selfies, there are two sensors but the tandem doesn't bring much, but the classic sensor produces very good pictures. Finally, in video, the Galaxy S10+ is very talented, with a stabilization effect that works very well and greatly improves capture.

The autonomy is not quite at the level of the rest for this Galaxy S10+, which certainly manages to last two days while being quite economical, but there is a much more enduring competition. Samsung is not yet able to match what Honor offers, in particular.
Review of the Samsung Galaxy S10+ done by Julien Hany the 2019/04/08
A question or a problem on the Samsung Galaxy S10+? Create a discussion and our team will answer you!
Key points
Processor frequency
2.8 GHz
RAM (Version 128GB /8GB RAM, Dual SIM)
8192 MB
Internal storage (Version 128GB /8GB RAM, Dual SIM)
128 GB
Photo resolution (Front camera)
10 MP