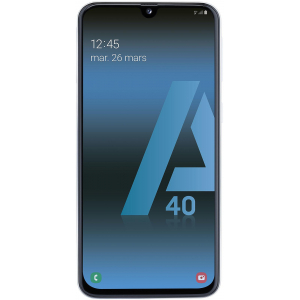 Operating system

Android 9.0

Processor frequency

2.2 GHz
Add my opinion

I have it (0)

I had it (0)

I want it (0)
Our opinion
In the low prices, Samsung has developed its Galaxy A range, which are flagships of the Korean brand for users who do not want to opt for an expensive smartphone.

The Korean company had the good idea to work on the size of this smartphone so as not to make it as imposing as the rest of the competition. The edges are well optimized and the handling is made easier, even if the choice of plastic can be a little disappointing. This one is still elegant, despite its propensity to keep fingerprints

The Korean brand has not made any concessions on the quality of the screen of this smartphone, which is a real success, with its Amoled technology. Thanks to it, the contrast is infinite and the brightness is adapted to all types of surrounding lights, whether strong or weak. There is nothing to complain about either about color rendering and temperature, and only a colorimetric probe would detect an irregularity ersatz, and so on. Finally, the reading comfort is indeed there with a good resolution, which eliminates any risk of eye fatigue.

The sound goes through a headphone output, but the Galaxy A40 suffers from a slightly confusing sound at the channel separation, despite a nice power and a clean rendering. The only loudspeaker, on the other hand, is quickly saturated.

Without being a power monster, the Galaxy A40 does what it is asked to do without showing any real signs of weakness. It will obviously be necessary to restrict oneself a little bit on the graphic quality to keep an optimal fluidity on the games.

When it comes to photography, there are two photo sensors, a classic 16 million pixel one and another used for wide angle photography. The first module does well when the light is strong, but the smoothing is already pronounced and the details suffer. In the darkness, the grain is then too pronounced, the noise affects the images that lose details. The colours are also at risk. The wide angle is certainly useful, even funny, but its rendering is not at all famous, especially in a dark environment. If the portrait mode lacks subtlety, the video recording is successful and the selfies manage to do well.

The autonomy is clearly below what can be expected from a device in this price range, since it has difficulty exceeding a day and a half of use, where the competition does much better.
Review of the Samsung Galaxy A40 done by Julien Hany the 2019/07/27
A question or a problem on the Samsung Galaxy A40? Create a discussion and our team will answer you!
Key points
Processor frequency
2.2 GHz
Photo resolution (Front camera)
25 MP
Comparison tests
Here is a list of comparison tests available between the Samsung Galaxy A40 and others smartphones.

Samsung Galaxy A40

Samsung Galaxy A40

Samsung Galaxy A40

Samsung Galaxy A40