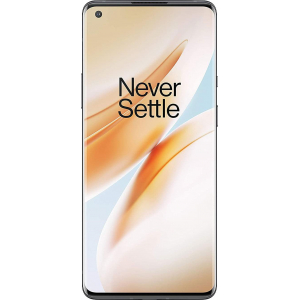 Operating system

Android 10.0

Processor frequency

2.84 GHz
Add my opinion

I have it (0)

I had it (0)

I want it (0)
Our opinion
Recognized for the quality of its range of smartphones, but also for the clarity of its range, OnePlus regularly evolves it, and here is the OnePlus 8 Pro, with very asserted ambitions and with the qualities to achieve them too.

This OnePlus 8 Pro is very beautiful, and instantly gives an impression of solidity and a beautiful finish. It's a bit big and therefore difficult to use with one hand, but all sorts of ergonomic ideas (such as the switch to change the notification mode) help the user experience. To unlock the device, there is a fingerprint reader under the screen and a facial recognition mode, alas perfectible. Although it is waterproof, this OnePlus 8 Pro still lacks a micro-SD port.

The large 6.78-inch panel is a great all-round performer, and is excellent in every way. The very high brightness goes hand in hand with excellent contrast, for constant comfort, all without annoying reflections. This comfort is also reinforced by a 120 Hz refresh rate, which gives a very pleasant fluidity. Finally, as always at OnePlus, the colors and their temperature are well respected.

No mini-jack port is now the norm, but the absence of a USB-C adapter is still as damaging at this price level for a smartphone. The two speakers are powerful and precise in their stereo, but the sound is perfectible.

Very powerful, the OnePLus 8 Pro absorbs every task it is asked to do without ever slowing down, even when a large number of applications are running in parallel. On the other hand, for gaming enthusiasts, this smartphone is just excellent, but some competitors do even better: nothing to worry about, games run smoothly and without any noticeable glitches.

In terms of photos, OnePlus has gone big with no less than four lenses, which complement each other quite well. The main sensor, with its 48 million pixels, provides very nice images when used at full depth (it is by default set to 12 million pixels with pixel combination), but has a slightly too warm rendering to be natural. However, this very strong processing does not allow it to offer images rich enough in detail in the dark, the rendering losing its superb quality. The telephoto lens module is a bit behind and makes the colors drool a bit, in addition to the lack of sharpness: as often, a dark environment makes you switch to a digital zoom, which greatly deteriorates the quality of the shots. The good photo surprise of this OnePlus 8 Pro is without a doubt its ultra-wide angle lens, with a very precise rendering, and which is not too strongly affected by a drop in light. As far as portraits are concerned, this smartphone provides a good result, quite natural on the cutting of subjects. The selfies are also well restored, and as for the movie, you have to be satisfied with the Full HD mode for an optimal fluidity, but nothing to prevent, the stabilization being a real asset here.

With its generous battery, OnePlus 8 Pro does very well in terms of battery life and can go for two days without recharging for the most independent users, but even with a lot of effort, it rarely runs out before a day and a half, which is a very good score.
Review of the OnePlus 8 Pro done by Julien Hany the 2020/10/30
A question or a problem on the OnePlus 8 Pro? Create a discussion and our team will answer you!
Key points
Processor frequency
2.84 GHz
RAM (Version 256GB 12GB RAM Dual SIM)
12288 MB
Internal storage (Version 256GB 12GB RAM Dual SIM)
256 GB
Photo resolution (Front camera)
16 MP
Comparison tests
Here is a list of comparison tests available between the OnePlus 8 Pro and others smartphones.

OnePlus 8 Pro