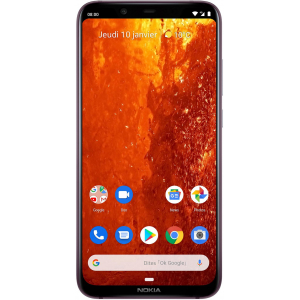 Operating system

Android 9.0

Processor frequency

2.2 GHz
Add my opinion

I have it (0)

I had it (0)

I want it (0)
Our opinion
Nokia is trying to make a name for itself with smartphones that now run on Android, Android One itself, and this Nokia 8.1 targets the mid-range while promising a lot.

The exterior appearance of this Nokia is certainly flattering, and its all-glass appearance makes it attractive, but the rear facade has as always with this coating tends to immortalize fingerprints. Despite its relatively high weight, the Nokia 8.1 is not too massive, with fluid lines, and gives every guarantee of solidity. If it is not waterproof, which is regrettable, it has most of the technological expectations, with NFC, the port for micro-SD and the fingerprint reader which is integrated under the slab (and quite effective).

The slab, with its 6.18 inch diagonal and 19:9 aspect ratio, has a classic resolution but sufficient for a fatigue-free screen reading, thanks to the 2280 by 1080 pixels. For an optimal color display, however, it will be necessary to make a small passage in the settings, to obtain a rendering that is not far from ideal. The contrast, on the other hand, is a little less than expected, but the brightness gives nothing to complain about, whatever the lighting environment.

In terms of sound, Nokia has equipped the 8.1 with a 3.5 mm jack output, a good point that goes hand in hand with a satisfactory overall quality, but it lacks a little power to be totally satisfactory. The single loudspeaker, on the other hand, is quickly at a loss.

The power of the Nokia 8.1 is sufficient for most uses, and you'll have to use it a lot to see it slow down a little, and also increase the temperature. To maintain good display speed, however, some details will have to be sacrificed in the most demanding games.

Two sensors, 12 and 13 million pixels, operate in concert, the second one bringing the depth of field effect. Outdoors, the shots are rather correct, but we can regret a slightly forced contrast and a perfectible sharpness. Obviously, the results in the dark suffer quite a bit, but the brightness remains good, but the noise causes a significant loss of detail, making the scene unreadable and flattering. The captured selfies are unfortunately very disappointing, with unflattering counter-lights and too much electronic noise to seduce. The video recording is just correct, but it is better to stay in Full HD mode for fluidity.

Autonomy is a great success on this Nokia 8.1, which happily holds the two days without needing to be recharged, and the most economical will manage to make it last two and a half days without too many concessions.

Review of the Nokia 8.1 done by Julien Hany the 2019/05/14
A question or a problem on the Nokia 8.1? Create a discussion and our team will answer you!
Key points
Processor frequency
2.2 GHz
Photo resolution (Front camera)
20 MP