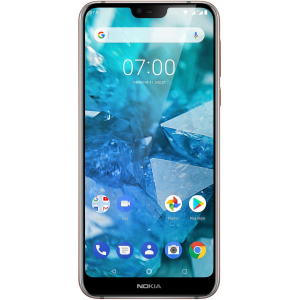 Operating system

Android 8.1

Processor frequency

1.8 GHz
Add my opinion

I have it (0)

I had it (0)

I want it (0)
Our opinion
Nokia has regained an interesting position as a smartphone manufacturer, with some interesting models if not completely stand out. The Nokia 7.1 comes in a very competitive sector, the mid-range, but with the advantage of Android One, which is Android naturally.

While the smartphone has a rather classic style, it is nevertheless seductive with its glass back and neat finishes, which reassure about its solidity. It's a shame that the rear facade is so quickly covered with fingerprints, but for the rest there's almost nothing to complain about. The lower edge on the front seems a little cumbersome for a modern device, but for the rest, everything is neat. The fingerprint reader works well, the USB-C is good as well as the Jack port to connect an old headset.

The screen is quite standard in size compared to the current tenors. Very well defined (2280 by 1080 pixels), it benefits from a beautiful luminosity and remains readable in most environments, despite a contrast that is a little off. If the colours are accurate, the shades are clearly too cold, and unfortunately there is no way to correct all or part of this.

For the sound, the headphone output ensures a correct rendering but at the stereo a little reduced. Unfortunately, there is no question of stereo for the loudspeaker, because it is indeed unique, and lacks precision once again.

There is a small disappointment when you feel the Nokia 7.1 slowing down on some application changes or when launching the photo application. This lack of real power is also felt for video games, for which a few details will have to be sacrificed.

The Nokia 7.1 shows real limits in photo, with excessive smoothing and a small lack of sharpness. The main concern, however, comes from the processing of the photos, which takes a considerable amount of time, resulting in a real concern for general reactivity. When there are difficult light conditions, the rendering is very affected, losing a lot of accuracy and display quality. For video, it will be necessary to be satisfied with a Full HD resolution to benefit from optimal fluidity. The selfies produced, on the other hand, are more than correctly invoiced.

The range could have benefited from the modest performance of the Nokia 7.1, but in reality this is not really the case and it will have to be satisfied with a day and a half of use, at best.
Review of the Nokia 7.1 done by Julien Hany the 2018/12/29
A question or a problem on the Nokia 7.1? Create a discussion and our team will answer you!
Key points
Battery life on UMTS/LTE talk time
20 h
Photo resolution (Front camera)
8 MP
Processor frequency
1.8 GHz