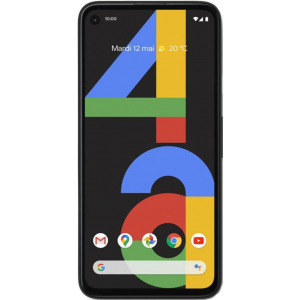 Operating system

Android 10.0

Processor frequency

2.2 GHz
Add my opinion

I have it (0)

I had it (0)

I want it (0)
Our opinion
Google has found its sector for smartphones with its Pixels, which combine attractive prices and good quality, especially when it comes to photos. This Pixel 4a is a cheaper version of the Pixel 4, but offers many interesting features.

The design has progressed on this model. We are here on a rather classic camera, but with a front panel finally optimized, and certainly in plastic but matte and well finished. The real plus lies in its reduced dimensions, which make it usable with one hand without too many worries, which is rare. In terms of things to review, there is the fingerprint reader on the back of the device, rather than under the screen, the lack of waterproofing or micro-SD port, but nothing very unusual in this price range.

The slab measures 5.8 inches diagonally, a size that's not so huge at the moment. Google has equipped this Pixel 4a with a beautiful definition (2340 by 1080 pixels) and the display is even finer and more appreciable. With a beautiful brightness and infinite contrast, comfort is always there, no matter what the surrounding light. The brand has also made sure that the colors stand out with naturalness and fidelity and there is hardly anything to say about the quality of the screen of this smartphone.

Big surprise: the Pixel 4A offers a mini-jack port, and on top of that, it's quality. And as the speakers are also efficient, with a rather satisfactory accuracy, the sound part of this smartphone is a highlight.

The Google Pixel 4a is not a monster of power, it's a fact, but for most uses, it will be imperceptible and the experience will be positive. For games, it's about the same, that there are some concessions to be made but it will suit most users.

Sobriety is the rule for the photo part, with a single sensor, with a ceiling of 12 million pixels. Nevertheless, Google has perfectly succeeded in making the Pixel 4a a top level smartphone in photography, which produces very beautiful pictures, both natural and rich in detail. The result is only slightly affected by a dark environment and one always enjoys balanced, flattering and true-to-life images. The portrait mode is of the same level, and always or almost always manages to turn faces with precision, but the sensor in front of the camera lacks a bit of response for selfies. The video is captured without major worries and remains pleasant.

Google could certainly have done much better for the autonomy, which remains behind what the competition can offer with only one day of continuous use before the need for recharging, but it requires a bit of economy so as not to be surprised.
Review of the Google Pixel 4a done by Julien Hany the 2020/10/30
A question or a problem on the Google Pixel 4a? Create a discussion and our team will answer you!
Key points
Processor frequency
2.2 GHz
Photo resolution (Front camera)
8 MP