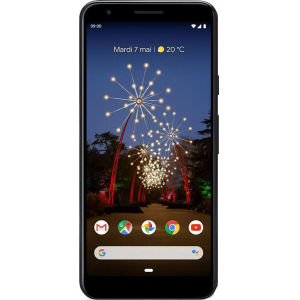 Operating system

Android 9.0

Processor frequency

2 GHz
Add my opinion

I have it (0)

I had it (0)

I want it (0)
Our opinion
Google is starting to equip itself with a range of smartphones that are both attractive and consistent in their approach, and the economic version of the Pixel 3, le 3a is proving attractive, even in its most generous format here.

The design of this Pixel 3a XL is not much more successful than its predecessors, proving to be quite massive and therefore difficult to handle, with a front panel with pronounced edges. The choice of plastic is obviously less attractive but it also reduces the weight of the smartphone, but for the rest there are good points. The physical keys are well located and easy to use, with a fingerprint reader that is well located and fast. On the other hand, the absence of a micro-SD port is a disappointment as well as the lack of waterproofing.

There's nothing to complain about on the 6-inch screen of this smartphone. The Pixel 3a XL already has an Oled technology tile, which guarantees infinite contrast, and this goes hand in hand with a good level of brightness, even if the proposed values are not the best possible. The resolution (1080 by 2160 pixels) is sufficient for good visual comfort, and the colour rendering is more than satisfactory.

The 3.5 mm mini-jack port is there and that's a good thing, because it's very satisfying in its stereo rendering, but it lacks a little power. There are two speakers, and their tandem works quite well.

This smartphone is also economical because Google has opted for a low-powered chip that is sufficient for most of the tasks requested, without any significant slowdown. Only the games will have to be reduced in graphic quality in order not to damage this Pixel 3a XL.

For the photo, Google has a reputation to maintain and has done what it takes to make sure that this smartphone is in its standards. The result, provided by a main sensor of 12.2 million pixels, is great. In full brightness, the rendering is very precise, while remaining realistic and without visible smoothing. In low light conditions, the Pixel 3a XL does very well and maintains a high level of detail, containing both electronic noise and smoothing. The dedicated night mode also makes it possible to manage the absence of light by playing on the white balance for a very pleasant result. For selfies, there is not much to say, even if the absence of the wide angle is a bit unfortunate. The rendering is successful and so are the videos.

The autonomy of this Google Pixel 3a XL benefits from the efforts of Google, which has been able to combine a fuel-efficient chip and a generous battery. It is in fact very rare to exhaust this phone in less than two days, unless you really over-sell it, which he manages quite well.
Review of the Google Pixel 3a XL done by Julien Hany the 2019/07/27
A question or a problem on the Google Pixel 3a XL? Create a discussion and our team will answer you!
Key points
Photo resolution (Front camera)
8 MP