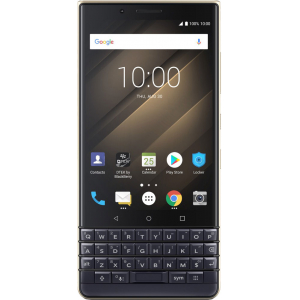 Operating system

Android 8.1

Processor frequency

1.8 GHz
Add my opinion

I have it (0)

I had it (0)

I want it (0)
Our opinion
Blackberry has the great merit of offering something different for smartphones, with KEYs displaying as their name suggests a physical keyboard. This LE version of KEY2 has a lower price range.

The look, with this physical keyboard, inevitably surprises in these times of thin smartphones with discreet edges. Here, the grip is good and the finishes excellent, but there was better work to do for the physical unlocking keys and for the navigation keys as well. For the rest, there is nothing to complain about, especially about the fingerprint reader integrated into the keyboard, and also very fast.

The screen is only 4.5 inches diagonal, which is very little nowadays, and in an uncommon 3:2 format. The definition of this panel is excellent, with 1620 by 1080 pixels for a real display comfort. The same cannot be said for the contrast, which is only fair, but the right brightness for all environments is making up for it. Color rendering requires a small adjustment to be ideal, but nothing very complicated either.

For the sound, there is a mini-jack socket, which is always nice because it allows you to reuse an old headset for example. If its power is correct, a more accurate stereo image is missing to convince. The single speaker at the bottom of the smartphone is a little inaccurate when the volume is a little too high.

The power of this KEY 2 LE is quite honourable and it runs most applications without showing any sign of major weakness. For games, the concern comes more from the general ergonomics, not very well adapted to the game, but the performances are there.

When it comes to photography, there are two photo sensors, which do well for daytime photos even if it involves a slightly forced contrast to bring out the details, but the colors are right. On the other hand, in the dark, the rendering is more than mediocre, almost unreadable, which is very disappointing in this price range. The same concerns apply to video capture, which requires good light, and to selfies, which can also be improved.

The battery life could have suffered from the modest size of the battery, but the Blackberry KEY 2 LE is doing well overall, never waning before an intensive day and able to last two full days with a bit of economy.
Review of the BlackBerry KEY2 LE done by Julien Hany the 2019/07/05
A question or a problem on the BlackBerry KEY2 LE? Create a discussion and our team will answer you!
Key points
Photo resolution (Front camera)
8 MP