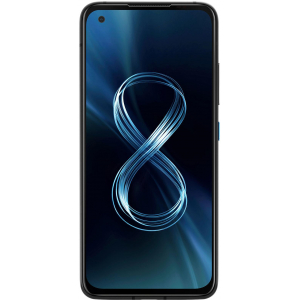 Operating system

Android 11

Processor frequency

2.84 GHz
Add my opinion

I have it (0)

I had it (0)

I want it (0)
Our opinion
Asus, a well-known manufacturer of PCs and laptops, intends to find a place as high as a smartphone manufacturer with this Zenfone 8, which does not lack ambitions and beautiful promises.

The good surprise is the relatively small size of this smartphone, which stands out in this era of ever larger smartphones. The design is quite sober, with very elegant polished glass that doesn't get fingerprints, and the general ergonomics are pleasant, the normal dimensions of this Zenfone 8 help to hold it and the fingerprint reader under the screen works very well. On the good side, there is the presence of a micro-Jack port to reuse an old pair of earphones or headphones, and the waterproofing is well present. For the rest, only classic for an ergonomics without surprise, but without worry either. The 5G is also present.

The Zenfone 8's screen is very well defined (especially considering its "modest" dimensions), displaying 1080 by 2400 pixels, for a nice thin display. The refresh rate, which goes up to 120 Hz, is also a guarantee of comfort. The color rendering is good when you take the trouble to go through the settings, and the brightness and contrast make this screen readable in all circumstances.

The sound of this Zenfone 8 has been particularly well taken care of. If we are pleased to find the connection for headphones with micro-Jack port, the two speakers are very well made and make a particularly precise and well dosed sound, both in the highs and in the lows.

There's nothing to complain about when it comes to power for this smartphone, which is fast for all uses, with applications that open and close in the blink of an eye, and games that run without ever having to make concessions in terms of detail. Beware, however, of the device's heat, which is quite sensitive.

For photography, Asus has put two sensors on this Zenfone 8, a sensor that goes up to 64 million pixels classic, and an ultra wide angle module. The first one does well in good light conditions, with even more detail and contrast when used in 64-megapixel mode, which is not the case automatically, because the module can also capture photos in 16-megapixel. The interest of this mode is to reduce digital noise when shooting in a dark environment. The night and portrait modes do very well and have no reason to be ashamed of their results, clearly optimized when these tools are used. Selfies are also satisfactory, and video is no problem for this smartphone.

In terms of autonomy, there is the disadvantage of a small battery for this smartphone with modest dimensions, but it proves to have a fairly decent endurance, the Zenfone 8 almost never runs out of steam before at least a day and a half of solicitations. However, the charger could have been more powerful, and therefore faster.
Review of the Asus Zenfone 8 done by Julien Hany the 2021/09/02
A question or a problem on the Asus Zenfone 8? Create a discussion and our team will answer you!
Key points
Internal storage (Version 256GB / 8GB RAM, Dual SIM)
256 GB
RAM (Version 128GB / 8GB RAM, Dual SIM)
8192 MB
Processor frequency
2.84 GHz
Photo resolution (Front camera)
12 MP