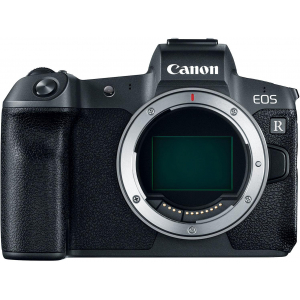 Add my opinion

I have it (0)

I had it (0)

I want it (0)
Our opinion
With the EOS R, Canon intends to respond to the 24x36 full-format sensor hybrids launched by Sony, which have attracted a large number of very demanding enthusiasts. This box comes with many promises on paper.

The handling of the ESO R gives all the guarantees of solidity but also of top-of-the-range positioning, with solid materials and which offer impermeability to water and dust. Nevertheless, it holds well in hand and proves to be of reasonable weight, but this is immediately less true with the objectives, all extremely heavy. It is nevertheless possible, for the first time at Canon, to mount lenses normally for SLR cameras, but it is necessary to remain on official models and the shooting is limited to 12 million pixels in any case in this case. The general ergonomics of this box is improving, with in particular a personalized ring for shortcuts, and menus that are very well made, quite logical and therefore easy to understand with the touch screen. Some choices are still debatable, but the space being limited on the body, it was necessary for Canon to make choices, sometimes debatable. If the electronic viewfinder is good and accurate, it lacks a little speed, and the competition does better. The function that disables the display on the screen when you approach the viewfinder can quickly be a bad thing. Good point for the batteries, they are standard for Canon, but to get a second one, it will require a grip that significantly increases the size. Finally, Wifi and Bluetooth provide highly efficient wireless connectivity.

In terms of reactivity, the Canon EOS R is not among the best, with a slightly perfectible start but an autofocus that performs its task seriously, in both good and bad light conditions. On the other hand, the burst mode tends to expose its limits in a sensitive way.

The quality of the images produced by the Canon EOS R is at the top of the list. The 24x36 sensor works very well with the embedded processor for sharp details, at least up to ISO 800, and it is only at the threshold of ISO 3200 that an impact is felt. The value not to be exceeded seems to be ISO 12800, which is quite classic even for high-end SLRs. Be careful, however, with the automatic white balance, which is sometimes a little hazardous: it is best to choose it manually. The video mode gives something to say again because there is a strong cropping when shooting in 4K. Otherwise, subject tracking remains good overall and the autofocus system performs well.
Review of the Canon EOS R done by Julien Hany the 2019/06/21
A question or a problem on the Canon EOS R? Create a discussion and our team will answer you!
Key points
Environmentally sealed
Yes
Display resolution
2100000 px
Viewfinder coverage (Viewfinder)
100 %
Viewfinder resolution (Viewfinder)
3690000 px
Number of focus points
5655
Framerate (high speed) (High speed movie)
119 fps